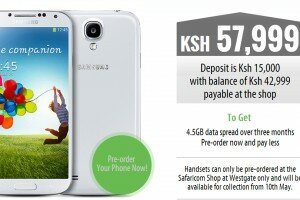 Safaricom has opened a pre-order site for the Samsung Galaxy S4 - set for release on April 27 - offering a discount price on the smartphone.
Safaricom will sell the device at KSh57,999 (US$ 690), with those who want to pre-order the phone needing to produce a down payment of KSh15,000 (US$ 180) and pay the balance at the time of collection.
The Samsung Galaxy S4 is one of the most anticipated gadgets in the market due to some of its new features, which include Sound and Shot, which will record the sounds when a picture was taken, and Air Gesture, which allows users to control the screen display through their gestures.
The phone will come with the latest Android operating system, 4.2.2, and will have Near Field Communication (NFC) technology.
Safaricom's pre-order of the device will come with a 4.5 GB offering spread over three months. Pre-orders will be available by May 10, two weeks after the rest of the world.
"There is demand for the Galaxy S4 globally and Samsung wants to make it available to all of its customers at the same time," Samsung said in a statement, while announcing the release date.