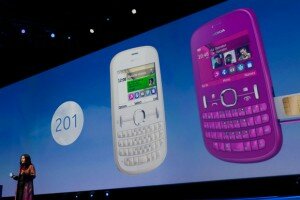 cnet.com
Nokia will launch its latest device, the Asha 210, in the second quarter of 2013, featuring a dedicated WhatsApp button to ensure quicker access to the social multimedia messaging tool.
Details of the new device were revealed at a live question and answer session hosted by Nokia.
Nokia said the dedicated WhatsApp button was one of a number of new features.
"Nokia Asha offers a smarter way to get social," the company said. "The QWERTY keyboard, WiFi and a dedicated WhatsApp button mean that access to chat is lightning-fast. Not just a socialite, this phone is also a looker, with a distinctive Nokia design and bold colours.
"The great quality keyboard will be a favourite with text addicts. As well as WhatsApp, the phone comes with Facebook, Twitter and support for email accounts, so you'll never be more than a few moments away from status updates, chat and messages."
The device can support single and dual SIM cards, has a dimension of 111.5 x 60 x 11.8 mm and weighs 97.3g. It has a 2.4-inch QVGA (320x240) display, a 64MB internal memory and supports up to 32GB microSD card memory.
Another unique feature of the device is the 2-megapixel camera located on the back of the phone, which can be activated via a dedicated button on the front. The camera can be activated when the phone is locked, thus ensuring that users can capture every image.
Nokia added: "The camera comes with smart imaging software that boasts the latest talents. The self-portrait feature gives you voice-guidance on where to point to make sure your face is in the frame. And once you've taken your shot, you can edit images directly in the camera app. Then, of course, you can share them using your social networks or the innovative Nokia Slam technology, which allows sharing over Bluetooth, without pairing the devices."