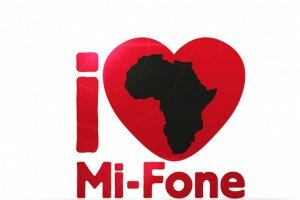 Image: mi-fone.mobi
Africa's first mobile phone brand, Mi-Fone, is now five years old and is aspiring to sell 50 million phones in the next five years.
The company, formed in 2008 with no funding, has continued to target entry level customers by delivering handsets at pocket friendly prices since it launched the Mi-Obama handset in 2009.
Since then the company has succeeded in launching a number of unique devices including SIM-embedded handsets, dual SIM handsets and an Android 3G smartphone released in May 2011. The company also has a smart feature phone with a 60-day standby time.
Chief executive officer (CEO) Alpesh Patel says the company aims to control a double digit share in the market.
"We have built phones that look great, are very rich in functionality and have a powerful music link. Music crosses every cultural boundary in Africa. We have seen year on year an ever increasing demand for the Mi-Fone brand. We are now available in more than 14 countries across Africa," says Alpesh.
Mi-Fone chief marketing officer Nicholas Regisford added that mobile phones will continue to be the main connector to the internet for the masses and thus offer huge potential for device manufacturers. He adds that Mi-Fone will continue to focus on innovation to enhance customer experience.
"Within this ecosystem, Mi-Fone's role is two-fold; Innovation at the high end with smart phones that deliver a world class user experience, and affordable price points, while on the other, the outreach and delivery of basic handsets to the first time user," said Regisford.
Mi-Fone was established to focus on the growing needs of the mass-market throughout Africa and has service centres in Johannesburg, Port Louis and Nairobi.