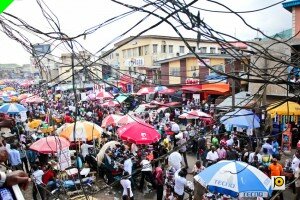 Lagos Computer Village. (jideodukoya.com)
Omobola Johnson, Nigeria's communication technology minister, has revealed that the popular computer village in Lagos injects around US$2 billion (NGN300 billion) into the Nigerian economy every year.
The funds come from from cloning phones as well as software and apps exploration.
Johnson was speaking yesterday (Thursday) at the monthly breakfast meeting of the Nigeria-South Africa Chamber of Commerce held in Lagos.
She said: "I think I am the first ICT minister that has taken time to visit the place and we have seen that the operators have great skills.
"The place consists of wonderful sets of youths who are generating employment for themselves, while inventing new ICT skills. We have encouraged the operators to come out with local brands to support the growth of the economy."
She also announced that her ministry is seeking to generate more revenues from the market by harnessing the skills of the operators in partnership with leaders of the market.
Johnson wants to ensure that by 2015 60 per cent of rural dwellers have access to personal computers and internet. To achieve this, she said the ministry is planning to empower the youths in the popular Lagos ICT market.
"We plan to empower the youths at the Computer Village to fulfill these targets and to create more jobs," Johnson said.