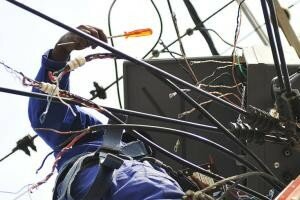 iol.co.za
Power and telephone cable vandalism continues to interrupt Kenya's infrastructural development, with companies like Telkom Kenya and Kenya Power claiming to be losing millions of shillings each year.
The vandalism is reported to have jeopardised Kenya's communications capacity, leading to losses amounting to KSh500 million (approx US$5.6 million) a year. A single incident in 2008 sawKenya Power lose nearly KSh28 million (approx US$420,000).

Meanwhile, Telkom Kenya continues to report losses from theft of its underground and overhead cables, which it says fetch high prices at a blackmarket in China.

Futile efforts to combat vandalism

To avert rampant vandalism, Telkom Kenya appeared back in 2008 to have placed more emphasis on its mobile phone business through the Telkom Wireless service, which uses CDMA technology, unlike other mobile phone companies such as Safaricom and Celtel (now Airtel Kenya) that use the GSM standard.

This seems to have been of little consequence as the company is currently undertaking a transformational programme to replace copper cables with fibre infrastructure that it hopes will ensure its Orange network remains uninterrupted.

"The copper infrastructure has various key challenges including the fact that there are several pairs of copper cable, thus complex to restore during faults and also complex to create redundancy," Felix Aron, Telkom Kenya-Orange's Product Manager in charge of corporate marketing, said, as quoted by Capital FM News.

"A fibre network on the other hand is more ideal in that it needs shorter time to restore and has redundancy factored in the last mile."

The programme, started in 2012, is to be implemented at a cost of KSh4 billion (approx US$45 million) and initially targets Nairobi's Upper Hill and Milimani areas, with countrywide rollout expected later this year,

"A cable cut incident in this location leads to network downtime that affects a significant number of Telkom Kenya-Orange clients," Aron explained, adding: "Telkom Kenya-Orange is deploying the next generation switches expected to cover the entire country in phases."

According to Telkom Kenya, the process is meant to support the entire market chain - SMEs, large corporates and public sector organizations - in coping with their ICT needs.

Police doing little

The police in Kenya have been criticised for failing to stop cable vandalism. According to some sources, most of the thieves caught are small fish, usually poor youth looking to make quick money, with the masterminds, who are purported to be politically well connected and wealthy individuals, remaining at large.

In 2007, Irshad Sumra, then a parliamentary aspirant, was found with rolls of vandalised cables at his Embakasi home and at a yard in Nairobi's Industrial Area. It is alleged he was never brought to full trial.

"The continued decapitation of Telkom cables and lines appears to be a well coordinated effort of sabotage," said Khalid Salim, the company's head of corporate communications.

"These thefts are seriously affecting the country's ability to communicate and heavily impact on the valued infrastructure put in place at the taxpayers' cost around the country. As a result Telkom Kenya is faced with mounting financial pressure from losses accumulated."

In June 2008, Kenya's government banned the export of scrap metal to discourage cable vandalism, a month later however it appeared cable thieves had found a new channel to ferry their goods out of the country, as more vandalism paralysed Internet services in six provinces. The thieves raided Telkom Kenya's Kikuyu Township station at 4am and shut down the company's Jambonet Internet gateway services for seven hours.

An East African problem

Cable theft has also affected neighbouring Uganda's telecommunications services. According to Uganda Telecom, one of the leading telecom companies in the country, it has lost up to 50 kilometres of cable for fixed-line network worth US$1.5 million in the last one-and-a-half years. Umeme, Uganda's power distribution company, has in the last two-and-half years also lost copper and aluminium wires cables worth US$2.5 million to vandalism.