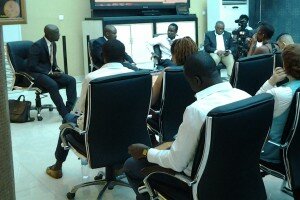 The much anticipated first African attempt at hosting Social Media Week has come and gone with more than a hundred events held at various locations across Lagos.
Issues were supposed to be directly linked to social media, though those that have nothing whatsoever to do with social media, apart from the personal Facebook, Twitter and possibly LinkedIn accounts of the panelists of such sessions, were featured during the five days.
Without doubt, this first edition really set the right pace and raised the acceptable standards for subsequent editions.
It served as the much elusive nexus – a platform for cross interaction between various stakeholders across various professional stratospheres.
What was however missing was the proper blending of the various sessions in order to give a coherent unanimous voice that could be marshaled in approaching social media in Nigeria and beyond. The organisers did not put this into consideration.
In an exclusive interview with HumanIPO on Friday, to be published in full later this week, Obi Asika, Chairman of the organising committee and head of Dragon Africa, said they were able to achieve their set goals.
"What we tried to do is to bring a global team to deliver to Lagos because Nigerians are global and they deserve to be treated globally. Even though they act locally, they still think globally," Obi Asika said.
The global aspect of the event was well felt as speakers flew in or joined live via the Internet to address the participants.
In addition, an expansive body of knowledge was shared at the event which will go down in history as the largest social media event ever held in Nigeria that cut across every division – political or social.
As plans will soon be underway for next year's edition, it has become necessary for the organisers to learn from the various pockets of challenges and consolidate on the successes recorded to ensure an even better edition in 12 months time.