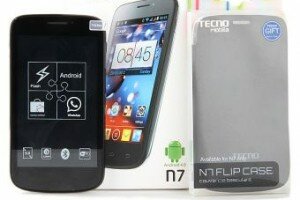 Tecno has launched its Tecno N7 smartphone, a new 3.75G Android device, in Ghana, as it looks to build on its brand.
Mounir Boukali, public relations officer at Tecno Mobile, said the company is empowering African youths and offering users a smarter life than the one given by the Tecno N3.
He said TECNO N7 is a more superior smartphone with has high-end performance.
"We always endeavour to provide suitable products to the consumer based on market demand. There is no doubt that many people's demand from smartphones are met in the N7," Boukali said.
He said the features of the new device include its 1GHz dual core processor that ensures high speed for data processing and simultaneous multi-tasking.
In addition, users of the new Tecno N7 also have access to more than 800,000 apps which he said are both innovative and interesting.
It runs on a 5" touch screen for viewing messages, multimedia, web content and playing games.
He said the company is committed to coming up with new products that will meet the needs of the users irrespective of their diverse groups.
"We will have more smartphones coming onto the market soon, which will meet the needs of diverse groups of people," Mr Boukali said.