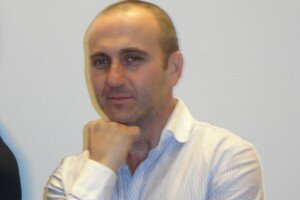 Eric Edelstein, chief executive officer at Zunguz and serial techpreneur. Image by HumanIPO.
Eric Edelstein, chief executive officer at Zunguz and serial techpreneur, spoke to HumanIPO about the local talent in building businesses and the development of the entrepreneurial ecosystem in South Africa.
HumanIPO: Do you think it is better for startup accelerators to focus more on gaining support from bigger corporates than focusing on and providing mentorship?
Edelstein: I think both. When I am talking about starting a company from scratch, I mean without accelerator support.
I was always a big fan of starting from scratch. Now I believe it is so much better for an entrepreneur to tap into an existing infrastructure… to grow much quicker.
The hardest thing about finding people for a startup, is that there is no credibility around it.
People don't always want to join a startup, because you don't have credibility, you don't have support, you don't know how it will go. If you're backed by an accelerator it gives you a little bit more credibility, but if you're backed by a corporate company, people feel a lot more comfortable getting involved when they know there is a company behind it.
It's been a real eye opener on how much support you can get as a startup when you are backed by a corporate.   
How do you think the 'right talent' is attracted?
I believe the biggest challenge is people in South Africa have a requirement to earn corporate type of value.
The second is that I believe people are very risk averse in when they are checking out ventures and they want the security of being with a corporate. People don't like this term 'startup' because they think it means too much risk.
Do you think a mindset shift around startups and risk is needed?
I think the mindset needs to change, but I think it's a slow process. I don't think it's going to happen in a year, two years.
Maybe [it will take] a generation for people to realise being involved in a startup business is a lot more… attractive people to go to. But people don't think that way in South Africa at the moment. And it is changing – people are starting to make that change…that joining an entrepreneur in his journey is an attractive way.
I find it phenomenal about how we have moved forward. I think people that are just entertaining this space are looking at what is happening in Silicon Valley and they are not seeing what we have done in the recent years.
It's amazing about how much more money has entered the system, how much more successful entrepreneurs' stories… and the networking that is going on.
But guys that are looking at South Africa go: 'Are we at the same par as Silicon Valley?' and they get disillusioned.
Do you feel the comparison is keeping people from realising local potential?
If you are looking to build a South African or African company, I believe it is possible to do it from South Africa. If you are looking to do a global company, it's more difficult to do it from South Africa, than for example from San Francisco.
I think as a South African, it is important to keep supporting the South African ecosystem. That is why I have decided not to move to San Francisco, because I lived there for four months and from a contact point of view, a MBA point of view, an exit strategy, a company point of view, it would be so much better.
I think there are a lot of great ideas. I think it is about the network, channels of funding. Here, you might have a great idea, but you might not have the network, contacts to drive you forward and it's much harder to get the funding. So it is difficult [as] the ecosystem is still building.
I really feel we need to help the next set of entrepreneurs build their successful companies. That is what is going to create jobs in the years to come.