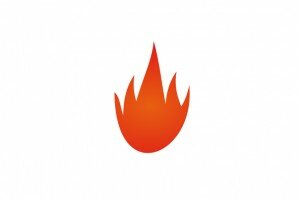 Source: Bonfiire
HumanIPO met social network Bonfiire co-founders Nico de Wet and Johannes Jonker to discuss the imminent launch, origin and ideas around the development of the critical discussion community-based platform.
The free social network began its test phase in October last year, but will be officially launched on February 28.
HumanIPO: How did Bonfiire come into existence?
De Wet: I think it is in 2009 when I and a few of my friends all finished our terms as student leaders and felt that we did not really succeed to get students.
We decided to experiment with a type of blog and the blog's name was the VryeMatie (Free Matie) and the reader - open minded, critical, reckless. We had about seven writers who each had a day each week and wrote something controversial.
When the VryeStudent also nicely exploded a bit, we decided it was time to really start doing a sophisticated thing. And that's how Bonfiire was born.
What makes Bonfiire different to other social networks?
Jonker: It is a social network for critical interaction.
We try with Bonfiire to really fill the gap in the market by creating a platform where people can exchange opinions in an easy and quick way – and purposeful too.
De Wet: But the powerful point of this story is that this is focused on already established communities because it creates a virtual space for an already existing community.
HumanIPO: What other unique features does this network offer?
Jonker: Think tanks are basically groups associated with a specific topic. It is truly collective, it's kind of a community blog. So with other blogging services like wordpress.com, blogger and so on you have your own blog, but it is a totally fragmented blog experience.
You can obviously follow people and see what is going on, but there is no way you can really gorge what a lot of people are really thinking in your community.
HumanIPO: How do you plan to monetise the product?
Jonker: The really nice thing about think tanks is that It offers a third party, for instance HumanIPO, a very unique opportunity to engage its potential client base in a very unique manner.
De Wet: Instead of that having an ad [advert] that has nothing related to the website, the activity on Bonfiire and the way you advertise is actually the same thing.
By just taking part in Bonfiire, by writing posts on Bonfiire people are getting all engaging with your brand if you take on a competition think tank. So then we will obviously also sell these competition think tanks, so we offer that as a product.
HumanIPO: How are you managing marketing and will you regulate it from being crowded with marketing?
Jonker: We want to really engage students. We want to make it as easy as possible for them to share their opinions and so a part of that is to minimise the ads on the site and so on and when there are ads they are really relevant and they are – it's ads people want to see.
De Wet: I think it is a win-win situation because I mean not only will the university get more attention with an advertisement, because it is the centre of the activity, also for the user it makes sense and it is justified because you see the company that has sponsored it and gives a prize.
HumanIPO: Do you have any rules in terms of censorship?
De Wet: We have not had such an incident yet. Perhaps we have had one in the days of the VryeMatie, but the whole idea of VryeMatie is not to create a place that is not censored. But we were sort of anti-establishment, that there is a bureaucracy which limits people so we want to not apply that as much as possible.
We do realise that there might be a time in which people might discuss kiddy porn and then we might make a call. It is quite a clear answer, that we will have to take it down.
Jonker: But what we can say is that we can obviously comply with the South African law so we want to make it as free as possible but in terms of defamation we will obviously consider it on a per case basis.
HumanIPO: Where does the name come from?
Jonker: Bonfiire as the phenomenon of the fire is in Africa, and in many other cultures, is an important motif as this is the place where people come together and have conversation take place. If you think it is a multi-cultural thing, you chat. That is the place where people gather. And that is exactly what we do – it is the online bonfire where people come together. The 'ii' is to make it a bit unique, it rolls a bit on the tongue and you can also read a lot into the second I, you can get all philosophical about it saying it stands for the information age or internet and combine the Bonfiire note with the Internet age.