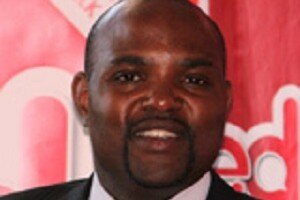 Telecel marketing director Octavius Kahiya. (broadband.techzim.co.zw)
The Zimbabwean government needs to do more to encourage affordable access to broadband, according to Telecel marketing director Octavius Kahiya.
Kahiya told the Broadband Forum 2013 in Harare, Zimbabwe, today that policymakers needed to develop a clear national broadband strategy if the country was to reap the benefits of increased penetration.
"We do not yet have specific digital laws, in terms of security, in terms of secure online payment. In that area we need to catch up," he said.
"We must have appropriate legislation, especially when it comes to e-contracts and security."
He quoted research that showed a doubling of internet speeds would contribute 0.3 per cent to GDP growth, as well as World Bank figures suggesting a 10 per cent growth in broadband access would lead to a 1.4 per cent growth in GDP.
For every 1,000 new broadband subscribers, he said, 80 new jobs would be created for Zimbabweans.
Kahiya said the government, aside from introducing legislation, should become an "e-consumer" in order to make processes cheaper and quicker.
"Policymakers should really look into e-government, to cut down costs and make things faster. Collect taxes faster," he said.
He also said local government should assist with the quicker rollout of affordable broadband.
"We need local authorities to give us fast decisions when we need to set up base stations or lay cables."
Kahiya did, however, commend the government for its decision to remove duty on handsets, saying smartphones and tablets would be the next big thing in Zimbabwe.
"The prices of smartphones and tablets are coming down and they will continue to do so," he said. "In the Zimbabwean context it will be easier to connect people. Very soon an entry level smartphone will be below US$60."