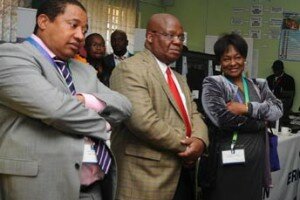 joburg.org.za
The City of Joburg Broadband Project is set to go live on July 1, delivering a live network offering services to all connected municipal buildings.
The project, will has been completed over the last three years, will cover all seven regions in the City of Johannesburg (CoJ) municipality.
BWired will operate the project for 12 years, while the network was designed by Ericsson South Africa. All civil work was completed at the end of last month, while fibre installation is currently 90 per cent complete.
"The Johannesburg Broadband and Network Project (JBNP) is the realisation of the city's long-term vision of developing the city's economy which will see the positive stimulation of opportunities for the business sector in terms of small to medium enterprises, effective access to public services, the development of the youth in Johannesburg and increased employment opportunities for all," said a press statement.
BWired chief executive officer (CEO) Musa Nkosi said the network aimed to provide communications at a more affordable price, reducing the CoJ's communications costs and benefitting the city's residents.
The Network will offer full WAN accessibility and VPN services.