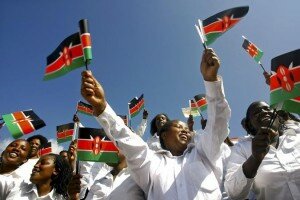 blogs.aljazeera.com
Growth in technology demand and use in Kenya has heavily influenced political campaigns in the country ahead of the March 4 polls.
Several technological advancements have ensured a stark distinction in this year's general elections compared to the previous ones, underscoring the power of technology. Right from the outset, the biometric voter registration (BVR) solution used by the Independent Electoral and Boundaries Commission (IEBC) changed the way elections in the country are held.

The IEBC had to work quickly to educate the Kenyan electorate on how the technology would work in easing the registration process. And, within the short time allocated to register voters, 14.3 million voters registered using the new technology. BVR can also be used to verify voters before they cast their ballots on polling day.

Contenders have had to grapple with the idea of having an online presence. The presidential candidates had to involve social media experts to enable their presence to be felt in the digital space. One of the contenders, Uhuru Kenyatta, has one of the biggest following on Facebook, even overtaking major brands in Kenya such as Safaricom. His total fan base is 361,000, while Safaricom is at 265,000.

Social media has become an important base to spread messages and to mobilise supporters. However, in a twist, social media has also been highlighted by the government as a breeding space for hate messages.

Raila Odinga and Uhuru Kenyatta have also unveiled apps for their campaign, to connect with tech-savvy Kenyans.

The numerous online tools that have come up in this year's election also highlight the importance of the digital space. Finnish company Shadow Elections opened its Kenyan portal to conduct social media opinion polls.

OpinionYetu, a Kenyan initiative, is another bent on shaking up the opinion poll industry by providing a tool that is linked to IEBC's API to conduct electronic polls, for those who have actually registered to be voters.

The speed at which the results will be relayed has also been accelerated using technology. The IEBC has given all polling clerks cell phones they will use to login to the IEBC platform to post election results to solve issues such as delay of results, which was one of the major problems that compromised the legitimacy of the 2007 general elections. The use of instant online posting will reduce the likelihood of electoral fraud.

The next step that Kenyans are highly anticipating is the implementation of eVoting to eliminate issues related to manual processes such as slowness and susceptibility to corruption.