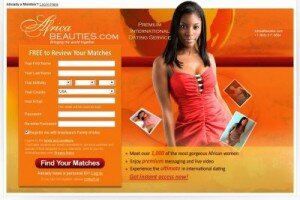 webutation.net
AfricaBeauties.com has launched operations in the Foshan, southern China, to hook up African singles with those of Chinese origin.
Lawrence Cervantes, communications officer at AfricaBeauties, said the new office and staff is part of the dating site's response to recent societal phenomenons, such as the increased attraction and demand by Chinese men for African females observed on the ground, numerous inquiries of the website by Chinese men and ongoing topical blogs and web posts.

According to AfricaBeauties, Chinese law on having not more than one child per urban family has had a bad effect on female children, creating an imbalanced ratio of men to women (5:1), meaning 80 percent of men in certain places in China have little or no chance of ever knowing intimacy with a woman, let alone being married, in their lifetime.

AfricaBeauties said the migration of Chinese workers and expatriates to Africa has created this interest from the most populous country in the world.

"More and more on the streets and in the bedrooms of Chinese cities, from Shanghai to Beijing, one can see mixed race couples, mostly Chinese men with African wives and girlfriends, many already with mixed race children," the company reported.

AfricanBeauties.comis part of the Anastasia Family of dating sites that includes AmoLatina.com and AsianBeauties.com.