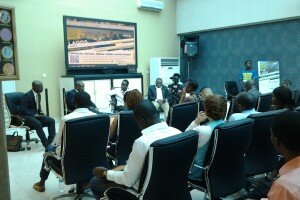 The opening session at Social Media Week Lagos, running late.
Without doubt, Africa's first Social Media Week is the biggest event of its kind yet in the West African region and with the large number of talks, seminars and forums, it could be billed as one of the largest on the continent.
Maybe due to the enormous logistical challenges that the Obi Asika-led organising committee had (and still have) to contend with, the first day of the week-long series of activities had some problems they need to rectify as the week goes on.

Despite being a global event, the notorious "African time" put in an appearance on day one.

The first session, Open Government and Social Media, was scheduled to begin at 9am, but for those who arrived on time they had to wait until 10.30am for the programme to commence. This may be due to the organisers' realisation of the famous Monday Morning Heavy Lagos Traffic.

Another setback to today's event was the disruption in the programme sequence as a result of the mysterious disappearance of the organisers of the next session. The announcer was heard calling them to see him, and at an event of such magnitude that should not be expected.

The first day also showed poor networking of activities at the various centres. While the programmes are unique, the organisers ought to make it possible for every participant to be able to know what is going on at the other centers with the aid of social media and simple technological innovations.

While participants are waiting for the next session at their location, they ought to be able to watch live streaming of events at other centres via the numerous enormous screens that decorate the various venues.

However, the livestream feature on the app is not working either.

The volume of the sound devices at the e-Learning Centre Hub deserves the attention of the organisers. Anybody with hearing challenges may not be able to clearly decipher what is being said at the front.

Organisers also have little plans to disseminate the details of what happened at the various centres to all the participants at the end of each day.

The organisers do have a meticulous social media team carrying out effective public relations duties. They can help coordinate and synchronize events at various centers so every participant can enjoy all the sessions.