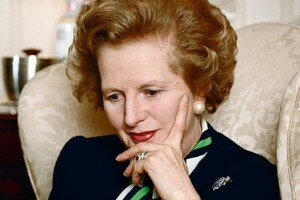 Margaret Thatcher passed away this morning after having a stroke. (www.abcnews.go.com)
The news of the death of Britain's first and only female Prime Minister, Margaret Thatcher, has been met with a massive response across Africa.
In South Africa, Kenya and Nigeria, Margaret Thatcher is trending in the top three and #IronLady is also trending highly across the continent.
In Nigeria top personalities, notable public figures and celebrities are taking to social media to voice their opinion on the former British PM, who died today at the age of 87.
Nigeria's former minister for the Federal Capital Territory, Malam Nasir El-Rufai, described the loss as a sad one. He tweeted:



May the soul of the courageous, principled and visionary Margaret Thatcher,former British Prime Minister rest in perfect peace. Sad loss..


— Nasir El-Rufai (@elrufai) April 8, 2013
Japhet Omojuwa, a Nigerian social media activist, described Thatcher as a strong woman.



Why do you think men call strong women "Margaret Thatcher"?


— JJ (@omojuwa) April 8, 2013



She inspired women all over the world...made her own mistakes too. RIP Margaret Thatcher


— JJ (@omojuwa) April 8, 2013
In South Africa Marius Redelinghuys, a director of communications and research for opposition party the Democratic Alliance (DA), tweeted.



I have huge respect for Margaret Thatcher, as woman and politician, I don't / didn't agree with her politics / policies though. May she RIP.


— Marius Redelinghuys (@MariusMR) April 8, 2013
Two times South African Music Awards winner AKA also weighed in to the debate by quoting a previous Thatcher comment.




"Whoever thinks the ANC can rule in South Africa is living in cloud cuckoo land" - Margaret Thatcher


— AKA (@akaworldwide) April 8, 2013



Thatcher's life was the focus of the Academy Award winning Hollywood film The Iron Lady, which starred Meryl Streep in the role of the late Prime Minister.