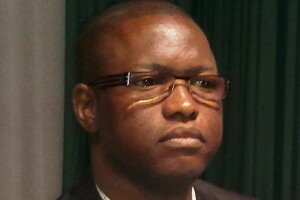 Ope Odusan, chief operating officer at the NiRA. (itrealms.com.ng)
.ng domains are now available for purchase, with prices ten times higher than .biz and .org domains. HumanIPO sat down with Ope Odusan, chief operating officer at the Nigeria Internet Registration Association (NiRA) to discuss what the new domains mean for the country's internet experience and how it will be regulated.
Why are we just having .ng now since it ought to have replaced .com.ng and others forms of domain?
Previously, registration  at  .ng  SLD  was  classified  as  premium  and  it  requires  NiRA  board  approval. The price starts from N600,000 (US$3,800) per domain. Some registrations were done at this price, but after a while, and also looking at the industry trend with ICANN, the global body for names and  numbers, [we made the] decision  to  open  up  more  names.
The  board  of  NiRA  conducted  a  survey  which  shows  that  our  people  cannot  afford  to  register  .ng  SLD  directly  because  of  cost.  The  present  situation is to allow direct registration of names under .ng, but still have some premium names so that Nigerians can now register local names and produce more content on the internet.
Nigeria's communications technology minister has launched the national portal, a .gov.ng site, adding to several other similar government sites. With the .ng, what changes should be expected in government-owned domains?
The  minister  and  the  head  of  service  recently  issued  directives  and  in  the  case  of  the  head  of  civil  service,  a  circular  was  issued  that  all  Government  email  and  website  should  now  be  on  .gov.ng.
This  is  an  important  step  and  Nigerians  will  now  be  able  to  distinguish a  real (Authorized) government  website  at  least  at  the  Federal  level  from  non-authorized  sites.
It is  important that the Federal Government take the first step and we at NiRA are very appreciative of the steps taken by the minister and other government agencies.
.ng costs ten times more than .org and .biz. Does NiRA have anything to do with the high costs?
Yes. The price was set higher because registration at .ng level has special value that you cannot get on .org  and  .biz
As  you  know  most  names  are  no  longer  possible  under  the  .org,  .com  and .biz. Most names have been registered so like a real estate, cyber estates in Nigeria can get  expensive, but for now names are still available on the .ng
What do think you should be the fair price for the .ng domains?
Prices of .com.ng is cheaper between NGN1,500 (US$9) to NGN2,500 (US$16), but to get .ng domain currently charge NGN15,000 (US$95) per domain per year.
The difference is that it is shorter, anything .ng is shorter than anything .com.ng. Some  people  prefer  short  names  for  branding  and  so  that  is  reflected in the prices.
I think NGN15,000 per domain per year is a fair price compared to the previous NGN500,000 per year per domain for the .ng
A young entrepreneur told me it could help enhance the nation's online reputation. Apart from this, what does the nation stand to benefit from the .ng domain names?
I  agree  with  the  young  man.  I  think  having  a  .ng  is  unique  because  it  is  a  true, trusted Nigerian brand.
Our  nation  will  gain  a  lot  by  reversing  the  current  flight  of  capital  to  .com,  .net,  .biz,  .info  etc  that  collectively  now  account  for  over  NGN600 million (US$3.8 million)  every  year  that  we  Nigerians,  as  individuals  and  corporate  bodies,  send  out  to  foreign  companies.
It  is  estimated  that  Nigerians  have  combined  registration  of  over  600,000  domain  names  and  at  NGN1,000 (US$6) per domain roughly, you see the amount of money we spend.
This figure stems from registration on .com, net, org. info, biz etc combined.
Some IT experts in Nigeria have been canvassing for stricter measures to ensure only legitimate enterprises and individuals register domain names. What measures have you put in place?
Our  policies  are  very  clear.  You  can  read  more  about  them  on  our  website.
We reserve the right to shut down any domain, website or emails that do not conform to our policies.
What other measures are NiRA taking on the issue of cyber safety in Nigeria?
We  are  currently  working  with  the  Nigerian  Communications  Commission  (NCC)  and  the Internet Numbers Registry for Africa (AFRINIC) to ensure that all domains registered under .ng can be traced.
We have a whois server which can be queried in real time to display the names of the person that owns a domain and couple this with the IP address database, it is easy to find any of these criminals if they operate within Nigeria, but you will discover some of these crimes may be  outside  of  Nigeria  so  we  will  continue  to  work  other  law  enforcement  agencies within and outside of Nigeria.
What should we expect from NiRA in the short term?
Expect  a  stable,  fast  growing  domain  name  industry  with  opportunities  abound  for  young Nigerians.
And long term?
Long term, NiRA will use the proceeds from the sale of domain to support the ICT communities and internet research in Nigeria.
We hope to contribute to projects and ideas that will advance the use  of  the  internet  and  domain  name with  websites  in  local  languages  and  promote  the creation of authentic Nigerian content on the internet.