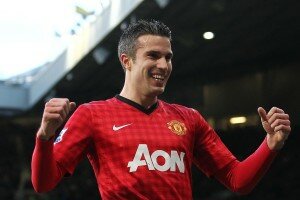 soccerbyives.net
An Indian ICT professional has been bombarded with Tweets by jubilant Manchester United fans congratulating Robin Van Persie on inspiring his team to the English Premier League title, via the wrong Twitter profile.
Ravi Visvesvara Prasad uses the Twitter handle @rvp, which confused fans believed was the official account of Robin Van Persie - whose three goals on Monday helped Manchester United win the Premier League title.
Van Persie is often known by the initials.



@rvp Fantastic performance. Well played.


— Never you mind. (@NotReallyNathan) April 22, 2013
As fans rushed to social media to congratulate their hero, Prasad noticed the mistake and tweeted to highlight the mistake.



RVP is the account of Ravi Visvesvaraya Sharada Prasad, a telecom & infotech consultant in India. RVP is NOT the account of Robin van Persie


— RaviVisvesvaraPrasad (@rvp) March 28, 2013
Prasad has since Tuesday shot into the global limelight through the mistake, and has kept up a string of good natured and humourous Tweets to entertain his existing and new followers.



Since jersey no. 20 is already taken, hope Alex Ferguson will give me jersey no. 21


— RaviVisvesvaraPrasad (@rvp) April 24, 2013



Most sportsmen have their sporting careers in their youth & then go into the workforce. But I am doing it the other way around.


— RaviVisvesvaraPrasad (@rvp) April 24, 2013
His response to the commotion has won him further fame from social media users impressed by his entertaining handling of the mistake.



Ahhh @rvp is a good sport. Nice one, Ravi Van Persie.


— Will (@WillMcHoebag) April 24, 2013



@rvp good job on winning the premier league and doing IT consultancy on the side #hero


— Louis Butcher (@LouisButcher) April 24, 2013



@rvp You're definitely my favourite twitter account of all time...


— SJ (@DrogBOSS) April 24, 2013
Speaking to the BBC, Prasad revealed the extent of the disruption, claiming he received between 4,000 and 5,000 new followers during and after the match, followers which he claims it took 10 hours to block.
Furthermore, he says he was mentioned over 10,000 times in the 24 hours following Monday's match.
While most of the Tweets Prasad has received have been congratulatory, there have also been negative aspects to the mistake, he explained.
"I sent lots of people messages explaining who I was. My email account is clogged too - I think people have been trying to hack into my Twitter account as I keep getting messages referring to a forgotten password."