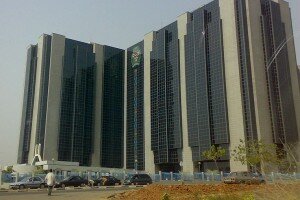 The Central Bank of Nigeria. CC image courtesy of chippla.
The Central Bank of Nigeria (CBN) has announced the value of mobile payment transactions within the last 12 months stands at more than NGN64 billion (US$400 million).
Tunde Lemo, the CBN's deputy governor for operations, disclosed this while speaking at an event in Lagos.
He said more than 60 per cent of the amount was recorded within the last three months, indicating the continual growth of mobile payment transactions in Nigeria.
"As we roll out to more states, the banks shall be acquiring more merchants and deploying POS (point of sale) terminals to those locations," said Lemo.
"There are over 10,000 ATMs that have been deployed in and outside of the bank branches and these ATMs have the capability to enable bills payment, funds, transfer, virtual top-up etc."
Lemo added more merchants were being signed up to offer services on their portals and accept web payments, including airlines, hotels, telecommunication companies.
He said: "You will agree with me that the use of the electronic shopping malls is fast gaining traction in Nigeria. This is highly commendable and must be strongly supported."
The CBN deputy governor also revealed the improvement in internet banking capabilities and collaborations it is involved in to tackle various challenges militating against the sub-sector.
"We reckon that inadequate infrastructure, consumer education and even consumer protection can pose serious challenges to the quick adoption of the payment options.  Consequently, the CBN is working with all the stakeholders to ensure that these challenges are surmounted quickly as we encounter them," he added.