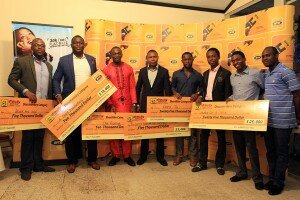 Winners of the MTN Afrinolly Short Film Competition have collected their awards and prize money from the organisers, FansConnectOnline.
HumanIPO reported earlier this month the winners in the various categories had been announced and the MTN Link Forum, in Lagos, was the venue for the winners to congregate and receive their prizes.
In all, the Femi Odugbemi-led panel of judges reviewed more than 200 submissions that met the entry requirements.
This was followed by public voting during which winners were decided.
Chike Maduegbuna, chief executive FCO Limited, developers of the MTN Afrinolly mobile phone app and initiators of the Afrinolly Short Film Competition, said: "[The competition] aims to digitally showcase African cinema talent and provide a platform to foster the production of African content and make same available online."
The top three prize winners in both categories received prizes of US$25,000, US$10,000 and US$5,000 respectively.
The competition was sponsored by MTN, Goethe Institut, BlackBerry, IREP and Google.
The event was attended by some of the winners, MTN personnel such as MTN Guinea's chief marketing officer Sekou Oumar Barry, and Saidat Lawal-Mohammed, segment manager at MTN Nigeria.
Other guests at the events included Tonye Cole from Sahara Energy, and Lanre Olushola, a life coach.