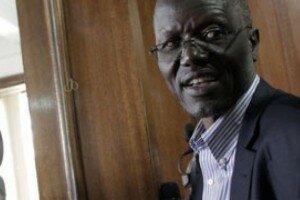 George Oraro-Raila Odinga's advocate Image: africanaute.com
Kenya's electoral body, the Independent Electoral and Boundaries Commission (IEBC), has been accused by the prime minister, Raila Odinga, of failing to utilize proper technologies in the general elections as the petition hearings began yesterday.

The petitioner, Odinga, through his lawyer, George Oraro, took issue with the way Biometric Voter Registration and electronic transmission of election results failed in the general election, with the petitioner saying this created loopholes in which results could have been tampered with.
"In the absence of electronic voter identification, the voting system became prone to manipulation,'' said Oraro while making his presentation at the Supreme Court of Kenya.
"We ended up with an election which nobody can confirm if it was accurate, transparent and fair according to international standards," he added.
Oraro argued that electronic submission of results was meant to prevent any tampering of figures between the polling stations and IEBC headquarters where the presidential tallying was taking place.
"IEBC has been telling Kenyans casually that the failure in the electronic system was not a threat to the integrity of the results. But the truth is that the failure opened up loopholes that seriously affected the integrity of the results from the polling stations," he said.
According to Oraro, physical forms (Form 34) were then required to have been used to confirm whether the results relayed to IEBC electronically matched the ones announced at the polling stations, hence eradicating any chances of doctoring of the results.
IEBC electronic identification equipment, and electronic transmission system failed during the March 4 general election, something that triggered the petitioner, Odinga, to move to court to challenge the integrity of the results in which his main opponent, Uhuru Kenyatta, was declared
Kenya's fourth president-elect. The hearings continue today.