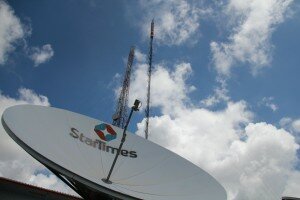 Digital signal distributor Pan-Africa Network will spend KSh8 billion (approx US$95.2 million) this year to enhance its Kenyan infrastructure and extend its regional reach.
The money, according to business development manager Kamal Sohrab, will be used to ensure the company extends its regional reach to 90 per cent of the population from the current 70 per cent. This is on top of KSh4 billion ($47.6 million) the company injected into the market in 2012.
He says the money will also fund adding an additional 13 sites to the current 10, which have been able to reach 18 towns and cities including Meru, Embu, Karatina, Malindi, Kakamega, Webuye, Kitale, Bungoma, Eldoret, Nyeri, Nakuru , Nairobi, Mombasa and Kisumu.
"We have already completed surveying the 13 sites and we can be expected to be entering towns such as Narok, Kericho, Nyahururu, Machakos and others within the next few months," he said.
Kamal said although the country has lagged behind in the planned switch off of analogue signal and migration to digital, Kenya still has the best infrastructure to support a smooth transition. Neighbouring country Tanzania has executed the first phase.
"Pan-Africa Networks will dramatically reduce the existing local channels' investment on operations and maintenance costs allowing the opportunity to concentrate on content development which will further see more television players venture in the country thereby translating into an enriching viewing experience for the Kenyan people," he said.
He added the company will launch value added services once it has completed its countrywide rollout, such as WiMax, video on demand and HDTV.
Pan-Africa Network is also reviewing expanding into neighbouring countries after being approached by industry players in Uganda and Rwanda.
The company is the second licenced digital signal distributor after SIGNET, with a third licence yet to be awarded.