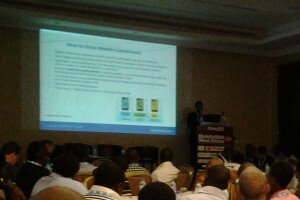 Mobile Web West Africa 2013 kicked off with its first Focus Day yesterday, with an emphasis on mobile marketing.
The US$380 extra event was somewhat played down prior to the event, but it did not disappoint.
Apart from the promptness and strict adherence to schedule, the Focus Day featured presentations by several world experts from the mobile world starting with Onyeka Akumah, vice president, marketing, at Konga.com. He spoke on "Understanding the opportunities within mobile marketing in West Africa and Nigeria in focus – here is the justification".
Several other speakers dealt extensively with mobile optimisation and how it can define a brand. The major crux of the subject of mobile optimization was adequately handled by Honey Ogundeyi, industry manager at Google Nigeria.
She gave interesting and revealing statistics on the current status of mobile advertising in Nigeria and how only 2 per cent of media spending is on mobile adverts.
The chief executive officer (CEO) of Twinpine, Elo Umeh, however went a step further by juxtaposing SMS advertising and mobile web. He said to some extent, both can still be utilised by advertisers, though to varying degrees of user engagement.
While the case for mobile optimisation was continuing at the podium, many participants across the hall were however surprised that in 2013, mobile optimisation is still an issue in Nigeria and West Africa.
It should however be noted that mobile optimisation is a global phenomenon as several internationally acclaimed websites are not well optimised for mobile users.
At today's event, the international mobile world was well represented as the entire hall was filled with technocrats such as the founders of 2go and Eskimi.
Participants and speakers came from across the world, including an appreciable number of participants from India.
A speaker that stole the show was Lanre Akinlagun, a digital marketing and analytics consultant. He gave an experience-based appraisal of how analytics and consumer data are absolutely essential to a business.
He decried the habit of mobile advertisers who spend millions of naira on online advertising campaigns that cannot be tracked.
He added that some such advertisers put up online banners with non-functional links despite paying millions of naira to the websites where they are placed.
While the MWWA2013 is meant for the West African sub-region, Nigeria is the only nation in the region that was strongly represented.
While this may not be unconnected with the rapid growth being recorded in the nation's mobile sector, it further confirms that mobile sector players in other countries within the sub-region need to step up and challenge Nigeria in order to also attract the massive attention that events such as MWWA2013 will be bringing to the host nation.
Because if a session that the organisers were not so enthusiastic about could turn out to be this successful, informative and helpful to many that attended, the main events today (Wednesday) and tomorrow (Thursday) will definitely bring opportunities that other West African nations would desire to have because as far as the foreign delegates, technocrats and mobile experts are concerned, Nigeria is West Africa.