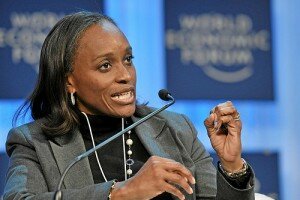 Communications technology minister Omobola Johnson. CC image courtesy of the World Economic Forum, on Flickr.
Ten teams have been inducted into the Techlaunchpad initiative of Nigeria's Ministry of Communication Technology, setting them on a one-year training course beginning on Monday.
Receiving the team at the incubation centre in Lagos, minister Omobola Johnson said with collaboration with stakeholders, the initiative could help produce solutions.
"We are convinced that collaborating with forward thinking partners, the Techlaunchpad initiative will help Nigerian software enterprises develop enterprise class solutions for our industries and ultimately Africa and the world," Johnson said.
The goal of the ministry's initiative is to build and support a software community to produce top class software solutions for all industries.
It is a partnership involving the Nigerian government and oil, gas and financial services industry partners.
By 2014, the initiative is expected to have created 10 successful software businesses that will provide industry solutions for the banking, oil and gas industries.