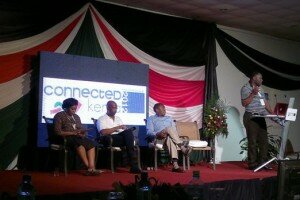 Image: techweez.com
The fifth annual Connected Kenya conference, bringing together techies, policy makers and development partners, will concentrate on the use of ICT in devolved governments, beginning on May 27.
The conference will be under the theme of 'County Citizen. Served' and will discuss the role of ICT in counties.
Paul Kukubo, outgoing chief executive officer (CEO) of the Kenya ICT board, said the government body will further use the conference to discuss the role of the private sector in ICT development in the country with the failures of the electronic voting process set to feature.
"As we devolve into counties certain services will be devolved to county governments and the county citizen will require efficient services. Our point is to enhance the efficient dissemination of such services through ICT," he says.
Kukubo added the meeting will further discuss the role of the private sector in provision of laptops to school children which he said poses a great opportunity for the private sector.
Already a number of companies have pledged to sponsor the week-long conference, to be held at the Sarova Whitesands, in Mombasa, including Strathmore Business School, who will be the content partner, Google, who will sponsor the innovation category, and Dimension Data, Microsoft and Oracle.
In the last two years Safaricom has been the platinum sponsor, joining Orange which sponsored the event in 2009.
Kukubo added: "We have enhanced this year's conference by partnering with Strathmore business school. We've been learning especially in advanced levels in case studies how companies are run successfully around the world.
"But we also have some successes, we just don't know it. They'll be listening to the presentations and helping to package them as knowledge. We want the experiences of Kenya's ICT sector to find their way into schools."