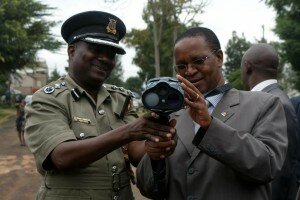 Image: facebook.com/capitalfmkenya
The Kenya police traffic department has said it will deal firmly with speeding after it received speed cameras from the National Road Safety Trust to help check drivers.
Traffic Commandant Samuel Kimaru said the gadgets would foremost check on speeding, a major cause for accidents with Kenya rated among the most dangerous roads globally having killed 14,700 people in the last five years.
Kimaru added the devices would help their expansion areas with the traffic department promising to place one camera on Mombasa Road in Nairobi where speeding and racing has been reported on weekends and early mornings.
"Speed has been a menace on the roads, but I am sure that with these cameras we will achieve impressive results. When arrested we will not compromise with you (offenders) because the cameras have printable data," Kimaru told Capital FM.
The Russian made devices will record the speed of moving vehicles on a memory card and will further capture details regarding the vehicle such as type and number plates.
The Ministry of Transport has also called for an urgent need to pass regulations requiring an audit of the speed cameras.
Since January 1, almost 1,200 people have died in road accidents that have left another 2,275 nursing serious injuries.
The national safety trust members include Safaricom, East African Breweries, General Motors, Media Owners Association, Matatu Owners Association, KNH, Magnate Ventures and Direct.