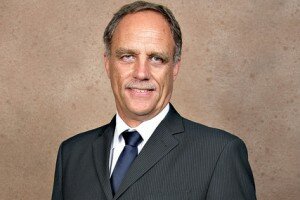 DA MP Herman Groenewald labelled the e-tolling bill an
The Democratic Alliance (DA) has slammed the manner in which today's South African e-tolling bill discussion was managed and said the proper legislative process was not followed.
Herman Groenewald, a DA MP in the National Council of Provinces (NCOP), was present for the debate on the NCOP Select Committee on Public Services, but has subsequently accused the African National Congress (ANC) of trying to rush the bill through without consulting the public properly.
Groenewald claimed the chairperson Mtikeni Sibande did not follow procedure because the committee was not able to consider the bill clause by clause, the chair did not clarify amendments and there no vote on the bill.
The DA member also said Sibande allowed extensive comments from ANC members and cut shot contribution from the opposition.
In a statement Groenewald said: "Does Mr Sibande have a directive from Luthuli House to make sure that the e-tolling Bill is passed through the NCOP, whatever the cost, in order to allow the Department of Transport to build toll-roads around the country without consulting the public?"
He said  he will now write to the chairperson of the NCOP, Mninwa Mahlangu, to request the meeting be reconvened.
He added: "It is unacceptable that any piece of legislation that has been shown to have a detrimental effect on the poor is passed without the opinions of millions of people in South Africa's provinces being heard, with clear disregard for parliamentary conventions."