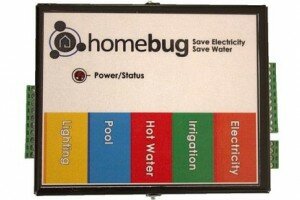 A Cape Town startup is hoping to revolutionise the way homeowners monitor their electricity consumption by feeding them easy to understand information.
Homebug also offers services in irrigation, hot water monitoring, swimming pool control and lighting control. Homebug's full time team consists of Neil Rudden and Richard Davies as well as a part time engineer and computer programmer.
The startup is part of the 88mph accelerator programme and is preparing to pitch to investors at the Demo Day on Thursday.
Speaking to HumanIPO, Rudden said: "We start off by monitoring the energy consumption in a home. We take that information and we send it to the website, and then we give it in a format that people can understand."
This means that Homebug converts technical terms such as kilowatt-hours into rands and cents, which actually mean something to users. An electrician is needed to install the current device, but the new GSM-version is designed to be customer installable.
"It's all about getting energy information to the user, allowing them to start understanding when and how they're using it  and how much it costs" said Rudden.
As well as the hardware device, Homebug are working on a smart-phone app version of their product, "…but it's at the very early stages," added Rudden.
Rudden said the 'app' will initially be used as a marketing tool in which they plan to create awareness and educate people on their energy usage. It will also serve as a platform to market the device.
Rudden said Homebug will appeal to "anyone who is feeling the pinch and not understanding why their electricity bill is so high".
As well as monitoring energy use, Homebug also sell modules which let you control your geyser, irrigation, pool pump and lights from the internet
Hot water geysers use approximately 30 percent of an average households energy.
Homebug allows users to schedule times for geyser activation. Leaving a geyser active when it is not needed will significantly increase consumption and costs.
Brian Dames, Eskom chief executive officer, and Malusi Gigaba, minister of public enterprises, issued a warning on Monday of the possibility of load shedding during winter.
They said load shedding will be imminent if South Africans do not switch their geysers off between 5am and 9am.
With Homebug, the entire configuration is online; it even tells you how much your watering schedule will cost each week. Furthermore, Homebug's irrigation control looks up weather forecasts online, so it can cancel your irrigation on rainy days, saving electricity, water and money.
Users are able to use the lighting schedule to set the mood for a dinner party, by dimming the lights or increasing security at home by enabling various lighting profiles, effectively creating an impression that the user is at home while being away.
Homebug was started approximately two years ago when Rudden, using his background in industrial control engineering, began buying electronic components.
The challenge faced, Rudden said, was finding suitable components for the "right price".
Currently, the challenge is to "get the device out there."
Homebug wants to get 2,000 devices in customer's homes and is currently discussing with investors and Eskom on how to fund a pilot program.
"The main thing is we're trying to put information back into the users' hands. We feel that Eskom... has got these campaigns to save energy, but it doesn't really come back to the user."
"People still leave lights on or they have lots of those big 50 watts downlights burning and don't understand that it's a serious expense," concluded Rudden.