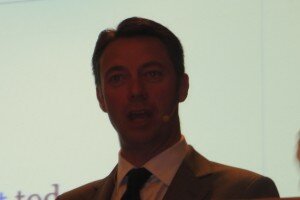 Paul Berney, chief managing officer for Europe, Middle East and Africa at MMA. Image by HumanIPO.
Mobile interaction is the future of marketing and an essential aspect of trading in securing sales through consumer impulse.
The Mobile Marketing Association (MMA) revealed its findings and predictions about the performance and future of mobile in the trading industry at the Digital Services Africa conference in Sandton, Johannesburg.
Paul Berney, chief managing officer (CMO) for Europe, Middle East and Africa at MMA, said: "In every part of the world, you will find that mobile is affecting everybody's power to purchase."
He explained how virtual search became the third moment of truth for shoppers, adding to picking up products and testing them out at home.
Mobile, according to Berney, is the only channel which is present throughout all three stages.
Therefore, increased mobile interaction with customers is growing more essential as it goes hand in hand with decisions leading to purchases.
"If you don't enable them to have some sort of a dialogue within mobile space, the likelihood is that they are going to walk out of your store, they are going to not build your brand," Berney said.  
He emphasised the importance for companies to be traced and accessible via mobile towards the brand.
Mentioning existing examples of e-commerce, Berney pointed to Best Buy's integration of mobile in all five of their buying stages.
A gaming app, called hi-jack, navigates shoppers to timed store discounts and a Tesco campaign where wall-printed advertisements leads to purchases through scanning products with a phone were also revealed.
The future of mobile marketing lies in dynamic engagement where dialogue with the customer before reaching the checkout point plays a significant part.
"As a new channel develops, it gives us time to think what we can do with it that we have never done before," Berney said.
New ventures lie in contextual relevance where data's role is not only behaviour predicting, but also behaviour guiding.
Mentioning the success of M-Pesa as an example of the Sub-Saharan success of mobile money in Africa, mobile commerce is said to also increase.
According to statistics, US$4 billion of PayPal's transactions within the last year were from mobile devices and a study of 3,000 startups showed 10 per cent of their revenue coming from mobile transactions.
Berney believes collaboration is the key to building better marketing mobile engagement as the future holds more integration and conversion.