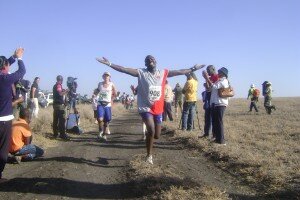 Huawei will sponsor the Lewa Marathon, in Kenya, for the seventh time alongside title sponsors Safaricom, with the race raising money for wildlife conservation and helping neighbouring communities.
Huawei's contribution up to now amounts to KSh49.8 million (US$600,000).
The race, under the theme Run Wild for the Wild, will take place at the Lewa Wildlife Conservancy today and is expected to draw thousands of participants from all over the world.
The race comes at a time when wildlife poaching is at an all time high in Kenya with the government having blamed the increased incidences on the Al-Shabaab.
According to statistics from the Kenya Wildlife Service (KWS), 137 elephants and 24 rhinos have been killed in the last six months with 5,842kg of ivory and rhino horns having been recovered.
The increased poaching has seen conservation efforts go hi-tech in Kenya with the use of drones having been seen in the Ol Pejeta conservancy, as well as the installation of infra red cameras set at Tsavo National Park.
Huawei, which has twice been the top sponsor, said environmental sustainability and heritage preservation remains key pillars of the company's corporate social responsibility.
Wind Li, the chief executive officer of Huawei in Kenya, said: "The marathon's main purpose is to support wildlife conservation, in a time when wildlife faces extinction and each day their numbers are declining.
"As corporate citizen operating in Africa, and Kenya in particular, we have a responsibility to preserve the heritage of the continent."