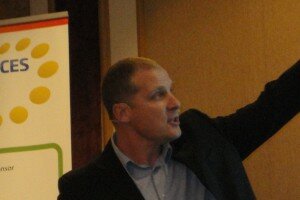 Lowell Campbell, expert on agent banking at Standard Bank, at the Digital Service Africa conference.
Mobile money will be a solution for the unbanked it if is simple and relevant enough to reach them, a South African representative from Standard Bank has said.
Lowell Campbell, expert on agent banking at Standard Bank, provided a bank's perspective on mobile money at the Digital Services Africa conference in Johannesburg on Tuesday.
Campbell said customers have started questioning why they need banks.
Looking at the average African's needs, he said: "Customers want services that are simple, secure and relevant."
Financial literacy plays a large role when it comes to making customers understand what they are offered.
The banking expert explained how a number of Safaricom customers in Kenya mistakenly inserted their SIM cards into ATMs to withdraw money.
However, he does not see the collaboration of network operators and banks as impossible, though profitability and regulations are great factors.
"I think it's the holy grail at the moment, the synergy piece," Campbell said.
HumanIPO reported yesterday (Wednesday) that Brian Richardson, managing director at mobile banking company Wizzit, believed mobiles and banks working together would not work because it was a "match made in hell".
Acknowledging banks were "asleep" when mobile banking emerged, Campbell said the main aspects to be considered are cost and accessibility.
Mobile banking is much closer to customers with no transport needed.
Agent banking is the closest option banks can offer as an alternative to mobile banking, although commission makes mobile the cheaper option.
"These services should be seen as an extension of a bank and from a bank's perspective it should be provided in such a way that cost can be avoided or significantly reduced," he said.
He believes a trusted environment should be created to channel the services successfully as the mass adoption of mobile money has showed the existing need in the market.