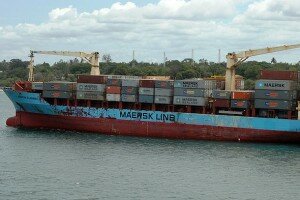 CC image courtesy of Laura A. Moore, U.S. Navy
The Kenyan government has completed its plans to digitise the Mombasa Port, which also serves landlocked Uganda and Rwanda.
Speaking at the East African Communications Organisation (EACO) Congress, William Ruto said the government had completed the work to ensure efficiency.
"At our port of Mombasa we are going to cut down the time of clearing goods from three weeks to a matter of hours. The discussions are complete, software is completed and hardware is in place," said Ruto.
The plan is one of a number of initiatives by the government, which according to Ruto is banking on ICT to improve the country's GDP by 2 to 3 per cent.
Among the plans is one to develop an environmental management law that will help in e-waste management, given that it is a growing menace.
"E-waste is a growing threat to our people's well being as they pose serious health and environmental hazards. I urge governments to establish policies, laws and invest in infrastructure to address waste management," said Ruto.
He also urged EACO countries to ban counterfeit handsets to help reduce electronic products whose short life span renders them a huge source of e-waste.