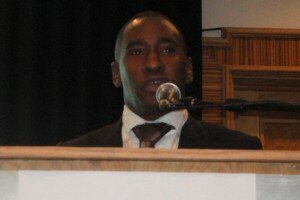 Nicholas Okoye, president and CEO at Anabel Leadership Academy. Image by HumanIPO.
Nicholas Okoye, president and chief executive officer at the Anabel Leadership Academy in Nigeria, spoke to HumanIPO about the role of governments in the digitisation of Africa.
HumanIPO: What do you think keeps governments from accomplishing digitisation?
Okoye: The main reason is that most of the African governments are being led by a generation of folks who did not grow up in the digital environment.
These are folks who did not use a computer at school, did not use a smartphone when they were growing up, did not send emails to each other, probably not even today.
So you are going to have a lot of resistance from folks like that when it comes to digitising the content for government ministries, government agencies and government departments and that is what we are experiencing.
We should not wait for this young generation to come in and take over the government before we shift.
Right now in most economies, especially Nigeria, the private sector has almost completely digitised and you have the government that is completely back in the old ages.
So you have two different systems operating side by side, which makes it too difficult for you when you want to do business with government.
If not the government, which leaders or specific industry role players will take the lead in digitisation?
I refer to leaders in terms of the industry leaders, leadership of corporation, leadership of companies that are involved in this space.
Of course, leadership is an abstract term because everyone's a leader. It does require for people to step up to the plate and then you define yourself.
There are a lot of societies, like computer societies who digitise this and all kinds of industry advocacy groups that are expected to be champions for this kind of relationship who haven't done so yet. I think they just need to do that.
When the government comes to the point where they take on the digital systems, will more trust be developed in the community in general to trust governments with services?
Oh absolutely, even if it's just when it comes to elections. The trust will go through the roof if governments can adopt electrical election voting and election counting, collection of taxes [and] collection of regulatory fees.
If all this is done electronically, it will provide tremendous more leverage for governments if people trust what they do, trusting where the money is going, because everything becomes transparent when the government takes advantage of these technologies.
 Do you think that the government can become a key role player in building trust in technology?
That becomes an added advantage with the use of technology and digitising government operations whereby a lot of the folks in the urban centres who are typically afraid of technology and have passed the age threshold [where] they don't go with technology.
[If] you go open a website and put your information there for a new driver's license, you are forced to do it, you get comfortable to do it and then all of a sudden it's a no-brainer.
It actually stimulates much more development for society and enlightenment and progress across the board because the more people get enlightened, the more demand, the more jobs.
Which industry do you think can excel with digitisation or potentially overtake?
I don't think anybody is overtaking entertainment right now, because everyone rushed in there.
[It has] grown in such speed because of…the younger population.
So it is a demand-driven economy as far as digitisation is concerned, but when that demand, when this population grows and they start taking advantage of government services, they start taking advantage of more sophisticated services, [such as] medical services.
I believe that areas will shift to other areas of life as well, [such as] education, followed by health and then trade.