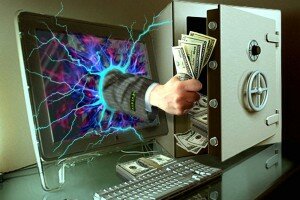 Image: freakingnews.com
Cyber frauds targeting banks decreased in 2012, with the year scoring 2.11 successful attacks per 1000 attacks targeting commercial banking customers compared to 3.42 per 1000 attacks in the previous year, according to the Financial Services Information Sharing and Analysis Center (FS-ISAC).
The report released the U.S.-based association of financial cyber security solutions firms, further shows that the success rate of cyber frauds has reduced from 12 percent to 9 percent and is far below the 70 percent success rate in 2010.
The findings however show that in Africa frauds targeting banks are on the increase, a notable one being the over-reliance on magnetic-stripped cards as opposed to chipped cards in the U.S.
In South Africa for example, cybercrime is expected to increase in 2013, according to the Norton Cybercrime report 2012. Last year, the South African Cyber Threat Barometer 2012/13 put total direct losses to cybercrime between January 2011 and August 2012 at R2.65 billion (US$312 million). Of this, an estimated R662.5 million was not recovered.
Though the statistics represent 100 banks, Bill Nelson, the president and chief executive of FS-ISAC, insists that the report indicates that counter systems installed by banks are actually working.
Nelson also attributes the drop in attacks to increased customer awareness and decision by commercial banks to shut down customers' online access to commercial system once anomalous activity is detected.
Banking systems that analyse customer login characteristics and patterns as well as interrogate customer hypertext transfer protocol (HTTP), a communications protocol for secure communication over the Internet, sessions to detect anomalous traffic have also played a big role especially in monitoring wire transactions above various amounts.
A similar report by Ernst & Young cautioned financial employees to investigate the background of employees' before hiring them as the majority of the frauds result from 'inside jobs.'