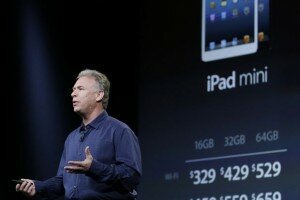 Phil Schiller (businessinsider.com)
Tech giant Apple has denied it is set to develop a cheaper iPhone, after it was reported that the company was to launch a phone specifically targeted at developing markets.
HumanIPO reported this week that Apple was set to develop a cheaper smartphone aimed at China and other developing markets in a bid to wrestle control of the smartphone market from Samsung. 
But Apple's SVP of worldwide marketing Phil Schiller told the Shanghai Evening News that the company had no intention of entering the low-cost smartphone market.
"Despite the popularity of cheap smartphones, this will never be the future of Apple's products," he said. "In fact, although Apple's market share of smartphones is just about 20 percent, we own 75 percent of the profit."
The rumours started after Taiwanese newspaper DigiTimes quoted supply-chain sources as saying the tech giant was looking to build on the success of the iPad mini in China and other emerging markets by launching a similar product for the iPhone. The report claimed Apple had gained confidence from Qualcomm's recent launch of its latest family of Snapdragon chipsets.