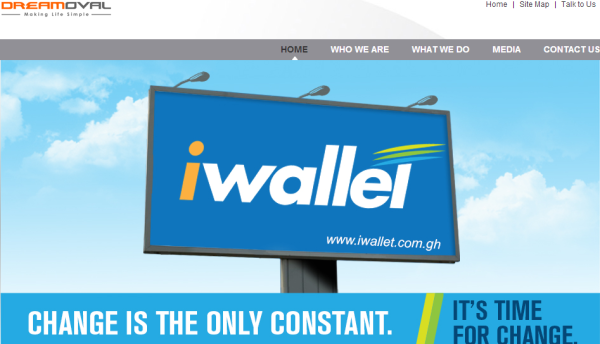 Ghana's DreamOval is taking great strides within the country's banking sector with its revolutionary software. Derrydean Dadzie, chief doer at DreamOval, spoke to HumanIPO about their experience so far.
HumanIPO: Who is DreamOval?
Dadzie: DreamOval is a software development and services company focused on providing innovative consumer and enterprise software applications to the African market through a network of happy and competent team.
What was the reason behind the conception of the company in 2007?
DreamOval was started by a group of entrepreneurial Ashesi graduates shortly after graduating. This group of young men and women felt they could make a great impact in the world through their own technology initiatives and vision. They believed they could create a place where dreams come alive in a bid to create a better society and make life simple.
What products and services are you engaged in?
DreamOval has two broad ranges of products and services we offer. We have Enterprise Software: which include Enterprise Nurse (a customer-centred value added services delivery framework for large organizations) and Integrated Mass Messaging Solutions. Our enterprise software is currently deployed and in use by several; major banks in Ghana including: Fidelity Bank, Agricultural Development Bank, Ghana Commercial Bank, and Stanbic Bank Ghana.
DreamOval also offers several consumer applications for use by the general public. These applications include: www.myTXTbuddy.com (A Mass Communication Solution), www.Xylo.mobi (An e-Ticketing Service), Qikli (A Web Domains & Hosting Service), www.iWallet.com.gh (An online payments system), www.MobiBuddy.mobi (A mobile content store)
Apart from Ghana where else are they used?
Our messaging solution is used in Bolivia, Gambia and recently Qatar
How much will it cost to use your services?
Our services all come with their own pricing schemes. For our Enterprise customers, pricing is agreed on a contractual basis, whereas for consumer applications, pricing for service is offered in Ghana Cedis for customers.
Have your products or services had any tangible impact in the market?
As stated earlier, DreamOval's Enterprise Services are quite popular amongst large organizations in the country and especially amongst financial services. There are many banks in Ghana today who are allowing us to integrate our applications directly into their main banking infrastructure. This is only happening because of the pedigree of trust and quality we have built in the industry. Our consumer applications also remain popular, especially our mass communication service, myTXTbuddy. That service in particular has thousands of users and every month millions of SMS messages are delivered to mobile devices around the world using myTXTbuddy.
iWallet is another service that is having a tangible impact upon the market as many Ghanaian businesses have set up online stores and are engaging in eCommerce due to iWallet integration.
Who are its target market?
Our various products are all targeted towards specific markets. For our Enterprise applications we most commonly target banks and other financial institutions. However we provide services to many other large organizations who serve millions of customers.
Any plans to engage in other services/products?
DreamOval is constantly on the look-out for ways in which we can make the lives of Ghanaians and Africans simple through the use of technology solutions.
What do you think of the tech scene in Ghana?
DreamOval is excited about the technology scene in Ghana as it is growing very fast. Increasing amounts of Ghanaians are being exposed to technology at an early age and are receiving the necessary education and training. Internet access and usage has increased tremendously such that the ordinary Ghanaians today is far more likely to have used the internet today than he would have been five years ago. All these factors are resulting in an explosion of tech entrepreneurship and tech training.
Bodies such as MEST (Meltwater Entrepreneurial School of Technology) are training and raising up young tech entrepreneurs into the market. The number of trained software developers in the human resource market is also improving rapidly which is a boom for organizations such as ours looking to hire.
A vibrant tech community is also being fostered by different organizations, chief of which is the Ghana-India Kofi Annan Centre of Excellence in ICT (AITI-KACE). Google is also playing an active role with their GDG Ghana group. Overall we are encouraged by this trend as technology is one of the ways the African youth can rise above poor situations and provide for ourselves.
How would you like to see it change?
DreamOval would like to see more engagement with technology in all facets of society. Despite the growing popularity of technology it is still relegated far too often to an entertainment role instead of providing greater value to our businesses. Stronger collaboration among tech companies and the community as a whole is the best hope in creating truly revolutionary software for Ghana and Africa. This will create more opportunities for local developers.
Locally relevant innovations are also lacking. The way to get more technology usage is to create the kind of software that breaks the kind of barriers we have in Ghana and Africa – education, technology inclusion, infrastructure etc.
Finally massive development and improvement in infrastructure will be the bedrock of our technology boom and that is one area we yearn to see change.
What are some of the hindrances to the growth of tech in Africa?
The lack of a compelling infrastructure stack across the continent is having an adverse effect on the growth of tech in Africa. Various governments have not done much to improve the deployment of necessary infrastructure to facilitate the penetration of technology in our continent. Those who are looking like doing something are more like pretending with only cosmetic improvements to lure political debates in favour of their governments. What we really need is deliberate attempt to invest in infrastructure to improve service delivery and drive service usage by the people who matter.
1. Investments in infrastructure should be done is such a way that the cost of utilizing such platforms is realistically low to drive innovation. The models to get this can of course be discussed in another forum.
2. Attitudes to Technology. Many people in Africa are still unsure about the benefits of using technology in their businesses and so have been slow to adopt it. Apart from this, amongst those who do wish to adopt technology, there is a preference for foreign-made software. This is perhaps caused by a general reticence to trust that locally created technology may be just as good as its foreign counterparts.
3. Financing. Most technology startups in Ghana today suffer from an inability to find long-term start-up financing. The eco-system of venture capital and angel investors that funds and allows Silicon Valley innovations to thrive, is non-existent in Africa. This means that most African tech companies will fail unless they can start turning a profit within their first couple of years. Loans from banks are pretty much inaccessible to the ordinary Ghanaians due to ridiculously large interest rates. All of this results in a focus upon quick profitability and not innovation among technology firms and start-ups.
What are some of the challenges you have faced so far in trying to get the app out there?
Challenges we have faced in getting our applications out there have included: Non-Existent Ecosystem. There is simply not a credible ecosystem to adequately utilize our service stack. This means, you can come up with an innovation but you will simply not get the numbers to use it no matter how much you invest in advertising or promotions. Which means you may not get in time any return on your investment to enable surge on and do more taking into consideration the lack of venture capital for startup tech business.
Publicity. Because much of our population aren't all that technologically educated and active, pushing an innovative product out there requires a greater investment in marketing than would normally be expected. Consumers have to be directly taught and prodded about the technology, how it can be used, and its direct benefits for them. For many people, our software may be their very first foray into using technology actively for business or personal ends. This means that we have a great responsibility in teaching the customer than what would be expected in a market where the consumer is already familiar with technology.
Trust. In selling our enterprise products, one of the major factors has been trust. This has largely been due to the need to convince large organizations in the country about the quality of our product as compared to foreign-made options. This trust has been something that we have built up over time with the provision of quality service to a few partners. The good reputation of our enterprise products in the market today has been a hard-won one for DreamOval.
How did you overcome the challenges?
For us, user experience is everything. This is the core value upon which we build all our services and products. Our offerings must leave the customer speechless and wanting to do more. With this in mind, we build everything with our users as central focus. Today, most of our enterprise clients would easily vote our software as the best in user experience. This level of delivery breeds trust from enterprise customers and easy learning by a mostly tech-illiterate population.
What are some of the strides that Ghana has made in the field of ICT so far?
There are many notables in the Ghanaian ICT scene today. A few of them are:
Mobile number portability, landing of three more internet fibre cables, GhLink – A national transaction switch which currently links most ATMs National Data Centre.