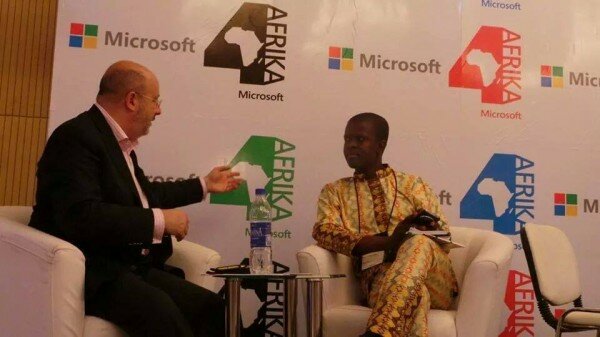 Fernando de Sousa, General Manager Africa Initiatives at Microsoft and HumanIPO's Paul Adepojuat DEMO 2014
Technology company Microsoft today announced a partnership with seed fund and accelerator 88mph to expand Microsoft Ventures program into Nigeria. Through the partnership, startups in Nigeria will enjoy improved productivity and would receive tools, resources, expertise and routes to market around the world.
Amrote Abdella, Director of Startup Engagement and Partnerships, Microsoft Africa Initiatives described the partnership with 88mph as a great opportunity to further develop the startup ecosystem in Nigeria and drive innovation.
"By expanding Microsoft Ventures into Nigeria, we hope to reinvent productivity for startups. This means equipping them with the technology that puts their businesses first, by providing affordable devices, cloud-based software and pay-as-you-go models, that enable anytime-anywhere access," said Abdella.
In a statement, Microsoft and 88mph said startups for the program will be selected based on globally established criteria. These include having a full-time founding team, a bold vision for tackling a real problem, technology-driven solutions and less than US$1 million raised.
Kresten Buch, founder of 88mph said: "While working with Microsoft in Kenya, we found we were very aligned on finding businesses that deliver value to consumers, helping bring them to profitability, and hopefully getting more investors interested in web/mobile businesses.
"It's still early days here and not a lot of players in this space, so we are thrilled that Microsoft wants to support our efforts here as well."
Cliff Reeves, Senior Director of Microsoft Ventures said: "88mph is a leader in a region where entrepreneurism is thriving and a great source of economic good. The Microsoft Ventures team is proud to be partnering with them in Nigeria and we hope to contribute to the success of 88mph, the startups they support, and the country as a whole."
Microsoft Ventures was first launched in June 2013 as a coordinated global effort to help startups get off the ground. Microsoft Ventures accelerators currently operate in Bangalore, Beijing, Berlin, London, Paris, Seattle and Tel Aviv with partnerships with third party accelerators in Moscow, São Paulo, Washington DC, Chicago, San Francisco, Rio de Janeiro, Bulgaria, Kenya among other cities and now Nigeria.