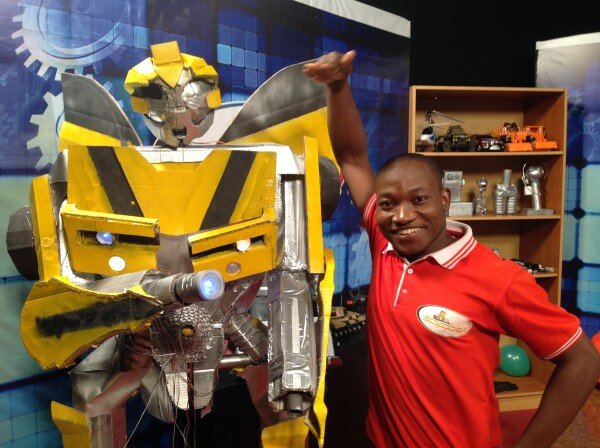 MINT founder and CEO Ben Nortey
A Ghanaian company is offering training in robotics and mobile app development, looking to promote entrepreneurship and tech businesses in the West African country.
Founded in 2010, the Metro Institute of Innovation and Technology (MINT) aims to apply innovative approaches to develop, use, and introduce technologies to enhance the learning of students, professionals, and technology enthusiasts in Ghana, boosting business development and enhancing socio-economic development in the country.
Programmes run by the company so far include the National Robotics Summer School (NAROSS), which runs annually to nurture students into future scientists, technologists, engineers and mathematicians, a robotics and mobile app workshop for universities, and robotics clubs and seminars for schools.
Ben Nortey, founder and CEO of MINT, told HumanIPO the programmes run by the company have benefited 2,500 students at basic, secondary and tertiary levels throughout Ghana.
"The MINT programmes have focused on the construction and programming of robots, applications of sensors and calibrating software and hardware technologies for experimental studies in engineering and science, and development of curricula centered on robotic-sensory systems," he said.
"The expectation of the Robotics programme is students' demonstration of their computational thinking skills through robotic programming. The long-term goal is to develop educational resources to serve the burgeoning population and communities of young scholars who are hungry for the development of ICT knowledge and desire to gain practical, hands-on skills in science, technology, engineering, and mathematics (STEM) early in their academic preparation through the building and programming of robots."
Nortey said such concepts and inventions could serve as a platform for training students and impacting and advancing their inventiveness. MINT so far has a network of 18 universities, with the company in the process of creating a sustainable business model to bring value to stakeholders.
He said Ghana was the starting point for MINT, with the company focusing primarily on education, though Africa has long-term potential.
"Ghana happens to be my home country and I have extensive knowledge about the culture of the people," he said. "I also have a better understanding of the challenges that confront the nation; that makes it a good starting point.
"One sector I see a huge gap, in terms of quality and delivery, is education. The country currently lacks the ability to expose students to practical education. This provides a great opportunity for my organisation to provide solution to the problem. The problem that confronts Ghana is not much different from other African countries. Our goal is to export our solution to other African countries over the next decade."
Nortey said Ghana was beginning to take the initiative in the technology sector.
"Young people are creating solutions that bring about socio-economic transformation. From banking applications to agricultural solutions, and more prevalent is mobile solutions. Ghana is gradually building momentum to compete fiercely with the rest of the world. It might take a bit of time, but I think Ghana is in motion and it will get there."
MINT, according to Nortey, will view its success based on whether it can train the next generation to be problem solvers.
"We are strongly committed to preparing young people to build successful careers in STEM related fields," he said. "We are beginning to see very impressive results. Recently one of our female students, aged 17, was inspired to pursue a Computer Science programme at the University as a result of the exposure she received from us. She took a Programming and Robotics class."
He said MINT had recently expanded its training programmes to include electronics, 3D printing, programming, mobile app development, game development and 2D/3D animation, and was in the process of releasing 'ScrapBot', a television programme on robots, featuring how to build and programme robots using everyday household items.