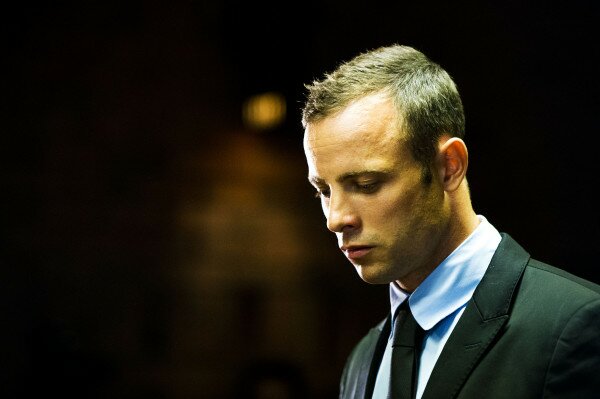 South African paralympian Oscar Pistorius. Image provided by MultiChoice.
The murder trial of South African paralympian Oscar Pistorius was disrupted this morning, as it emerged eNCA broadcast a picture of a witness contrary to her consent and the court's conditions on the live broadcasting of the case.
Questioning of witness Michelle Burger was stopped as it emerged pictures of her face had been broadcast by eNCA during the audio broadcast of her testimony.
Prosecutor Gerrie Nel discovered the broadcast of the witness' face when images of the coverage were shown to him on a mobile phone, prompting him to complain against the alleged violation of the court order regarding broadcasting of the case.
HumanIPO reported last month the court had allowed the live broadcast of the testimony of consenting witnesses, as well as the legal arguments, though no visual coverage is allowed of non-consenting witnesses. Audio coverage of all testimony has been allowed.
The broadcaster responded by saying in a Tweet the picture was a still image from a website, and not live visual coverage of the trial itself.
"NOTE: 'We used a still picture from the University website – also carried in daily newspapers.' – Patrick Conroy, Head of News, eNCA", eNCA tweeted.
"LIVE NOW: Patrick Conroy: 'We did not contravene the court law. We did not broadcast footage of Michelle Burger inside the court…'," another Tweet said.
"LIVE NOW: Patrick Conroy: 'We are not in vioation of the court order. We did seek senior council and they agree – we are not in violation'," another said.
Judge Thokozile Masipa ordered an investigation into the broadcast of Burger's image, and warned the media not to try tricks during their coverage of the trial.
"I must warn the media, you are not going to be treated with soft gloves," Masipa said, if any further violations occur.
She told media to "stop any photographs from any sources".
eNCA said it will release a statement later today.