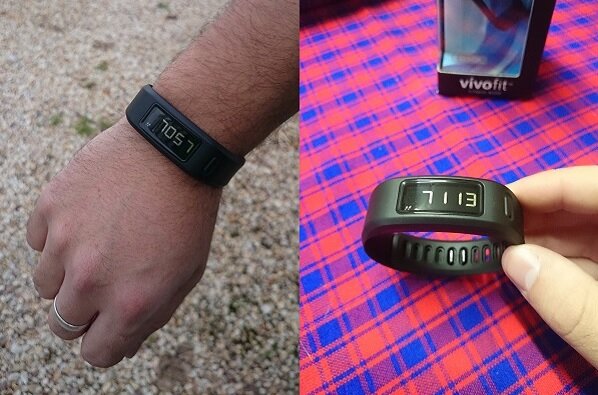 Image courtesy of Bandwidth Blog
Wearable fitness tracking devices are fast becoming a trend, especially among those people conscious of their health. There are currently a lot of big names in the industry like Polar Loop, Fitbit Flex, Jawbone UP, and the new Samsung Gear Fit.
Garmin, well known for their GPS systems and Fitness watches, joined the trend. In January of this year they announced two new devices: the Vivofit and Vivoki. The Vivoki is focused on corporate companies looking to increase their employees' wellness and get them more active at a lower cost. The Vivofit will be available for the normal consumers to track their activities 24/7.
The Bandwidth Blog's Martienus van Dyk takes a look at the Vivofit.
The Vivofit comes equipped with all the basic features needed in tracking one's activities. A step counter, distance travel meter, calories burnt, sleep tracker, basic clock, date and time, and is capable of syncing with Garmin's Heart rate monitor. To sync this data to your mobile phone you can simply download the Garmin Connect application from the App store for Apple devices and Play Store for Android devices and connect with Bluetooth.
This nifty bracelet does not only sync through a mobile phone but with any computer using the ANT+ dongle included in the box and Garmin express software, syncing it to Garmin Connect.
The Step counter has a goal feature that gives an amount of steps that you need to reach in a day. This changes everyday, calculating a new goal based on your previous day's steps and nudging you forward to get more active with achievable goals.
Time to Move
Time to Move is an inactivity meter featured in the Vivofit tells you to move after one hour of no movement. This is done with a red bar appearing on the top of the display increasing with every 15 minutes of inactivity. Getting up and walking for a couple of minutes will reset the bar. Other fitness devices like the Fitbit Flex and Jawbone on the other hand give a small vibration to tell you to get active, where as with the Vivofit you need to look at the display to see, which is a downside.
Sleep Monitoring
Put the Vivofit in Sleep mode and it will track your movement during the night. After you sync to either mobile phone or computer, you will be able to see a graph showing your movement. This according to Garmin will tell if you had a good nights rest. I find it only tells you the movement but with no definitive means of telling good from bad sleep cycles.
Screen
The screen is a welcome addition to fitness bands like that of the Samsung Gear Fit, because most of the others need to sync first in order for you to see your progress. With the screen staying on all the time it is easy to see how many steps you have completed but on the downside, there is no backlight for night viewing.
Battery Life
Here Garmin outdid themselves. Where most other fitness trackers pack the typical rechargeable lithium battery, the Vivofit uses two standard watch batteries. This gives the device a battery life of up to a year, at which point you can just pop in a couple of new cells. It is extremely interesting that they chose a much different route to all other manufacturers, where you need to charge it on a weekly basis.
As Garmin's first Fitness tracker, it is a good attempt and checking all the boxes to compete with the best out there. With minor drawbacks such as the lack of backlight on the screen and the lack of good sleep monitoring system, (hope to see those fixed on the new Vivofit) the Vivofit is definitely one to look at.