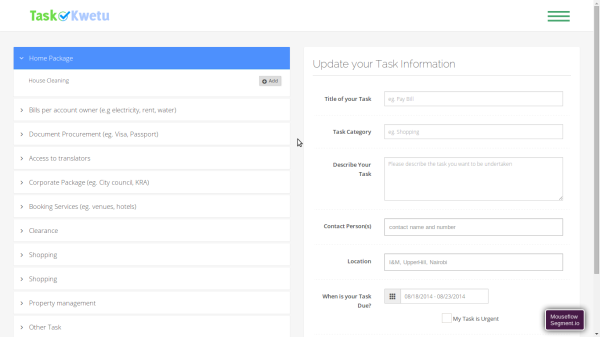 A new Kenyan startup TasKwetu is making lives easier for Kenyans in the diaspora as well as those living locally by carrying out tasks delegated to them by their clients by use of an online task management and tracking platform.
With the platform, users can delegate their tasks and track their progress. All they have to do is order a task on the taskwetu.com, either by describing the errand or clicking on the available list, pay the service charge and track its progress as TasKwetu gets the job done.
So far, you can access Taskwetu on the web platform but plans are in motion to have a mobile version.
"We constantly hear of how hard it is to get a simple task accomplished either because people are too busy and their errands are time consuming, they are far away from home, or the crazy Nairobi traffic, the list is endless. So we thought we should make Kenyans' lives easier (both home and abroad) by getting the job done on their behalf. So we came up with TasKwetu for Kenyans to easily get their tasks done from the comfort of their laptops," said Leila Khalif.
While the platform caters mainly for Kenyans in the diaspora, it can be of great use to local residents as well.
"The minimum cost for a task is $5 or Ksh 430 per task. However the price may vary depended on various aspects of a task and this is discussed with the client before we embark on the task," said Khalif of the expected charges.
As for the mode of payments Mpesa, Paypal or other applicable payment services can be used.
On the same day of their launch on 29thof August 2014, TasKwetu made an impressive pitch during the season 4 Nailab demo day and managed to get a Ksh. 1 million investment.
"We are in the process of building a strong business analysis with Nailab to help determine the need areas in which the funds will be injected into for a start. However one of the areas is marketing as we need to create a strong online and physical presence for the company," said Khalifa.
Taskwetu prides itself in providing a unique service which enables Kenyans to track the progress of their ordered tasks a feature that which couple with the project management feature will help them compete effectively with other established players in the field.