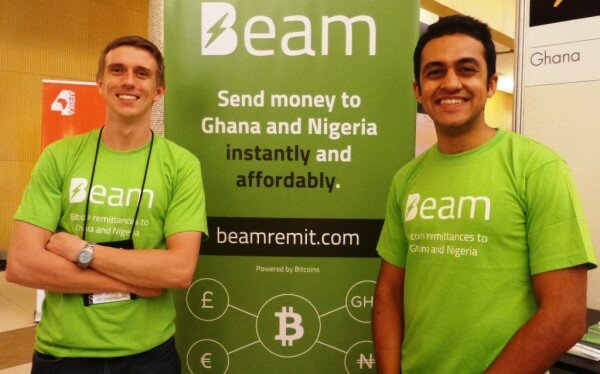 Falk Benke (CTO) and Nikunj Handa (CEO) of BeamRemit.com. Image courtesy HumanIPO
Accra-based company that allows Africans to remit money, cheaply and instantly, Beam has revealed there is a huge demand for Bitcoins in Ghana.
Falk Benke, chief technology officer (CTO) of Beam told HumanIPO the demand is as a result of low level of sophistication in Ghana's payment systems.
"For example, it is very difficult for locals to buy stuffs on Amazon, It is also really hard for someone in United Kingdom to pay a freelancer in Ghana. You need to have a bank account, do a bank transfer. You need to pay fees and it takes a long time. You may not be willing to go through the hassles. But with Bitcoin you can make transactions and payment on all the major platforms and transfer funds either directly with Bitcoins or they have an overlay that allows you to use Bitcoins," Benke told HumanIPO.
Commencing private beta this month, Beam allows individuals to send money to recipients in Ghana using Bitcoins. Starting with senders in the United Kingdom, Benke said a sender would send Bitcoins to Beam, the Bitcoins would be converted to Ghana Cedis and the recipient in Ghana would be paid instantly via mobile money.
On how the company would compete in a market that is dominated by major remittance companies including WesternUnion, Benke said convincing senders on the cost effectiveness of the platform and the numerous hidden and revealed charges of WesternUnion would be essential.
"For us, we are local, we are on the ground and we are focusing for now on UK to Ghana and it would enable us to be closer to our customers and find out the best medium because we have a lot of stuff going on in Ghana's mobile money market and a lot of online wallets that cater for the unbanked," said Benke.
"I encourage everyone to go to beamremit.com starting from October 1, the prerequisite is you have Bitcoins. You will enter account details including address for compliance reasons. You enter the amount of cedes you want to send and we will give you the Bitcoin equivalence you have to pay. You will see a checkout page. If you have a smartphone you can easily scan the QR code and the Bitcoins would be transferred to our wallet.
"Once we receive confirmation that the Bitcoins have been transferred, we could roll out the payment to the recipient through mobile money. Once we are fully automated, this process would take less than a minute but for the beta, there are processes involved so it would take less than 10 minutes. But in the long run it has to be almost instant once we are fully automated."