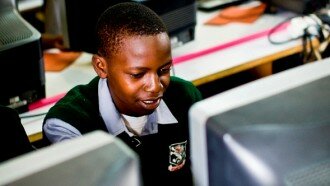 The British Council in Kenya has partnered with Microsoft and Airtel to launch digital hubs seeking to bridge the digital divide by allowing more than 100,000 students in the East African country to access ICT.
Dubbed Badiliko, which means "change" in Swahili, the hubs were launched concurrently with other hubs in Tanzania, Uganda, Zambia, Rwanda, Sierra Leone, Malawi, Ghana and Nigeria.
"This latest partnership initiative with Bharti Airtel demonstrates our commitment to improving access to high-quality teaching and learning in Africa," Tony Reilly, country director of British Council said at the Kenyan launch at Kilimani Primary School in Nairobi today.
"Our digital ambassadors are now implementing ICT and innovation teaching practice in classrooms across the continent."
Airtel Kenya has pledged to provide internet connectivity for the hubs for the next three years.
Each hub will contain 20 networked desktop computers and will have a digital ambassador who acts as the lab administrator and helps with ICT training.
Staff and students will also have access to the British Council's online professional development and English language materials.
All machines will have Microsoft Office programmes such as PowerPoint, Word and Excel installed.
The computers are also equipped with a Microsoft Learning Suite, which includes Auto Collage, Songsmith, Photo Story and Window Live Movie Maker.
"Our Digital Hubs are located in schools or district education offices but serve a wider cluster of schools in their area as well as being open to the wider community," said the British Council.
Since August 2012, 800 teachers have been trained, along with 14 Digital Ambassadors and 12 School Leadership Facilitators.