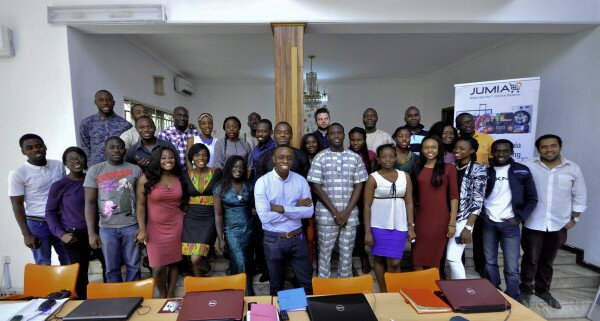 The Jumia team
E-commerce platform Jumia Nigeria has announced Nicolas Martin and Jérémy Doutté as chief executive officers (CEOs), replacing former managing directors Tunde Kehinde and Raphael Afaedor who have decided to leave to start their own business.
"To prepare for his new tasks, Nicolas Martin joined Jumia Nigeria a few months ago. Prior to this, he worked for seven years at McKinsey and Co and holds an MBA from INSEAD," said Jumia in a statement.
"Jérémy Doutté was previously co-managing director of Jumia Egypt. Before coming to Jumia in 2012, he was an associate at McKinsey and Co. Now he joins the dream team to hold Jumia high as the largest and No1 Retailer in Nigeria."
Former MDs Kehinde and Afaedor said the experience with Jumia had been exciting, and urged the company's staff to continue to uphold Jumia's values of customer service.
Afeador said: "Jumia was an exciting one and a half year journey for us. We are extremely proud of Jumia and wish all the best to the company and all the people here. E-commerce in Nigeria is growing very fast and is an exciting industry to be involved in."
Kehinde said: "As we move on to start our own businesses, we owe a lot to every member of the team, together we made history, together we have built Nigeria's first and biggest online retailer, a fate we never would have achieved without you.
"Let us urge you to continue to hold the values of looking after and satisfying every customer, supplier, and the people around you. There is no doubt we are building a great team of entrepreneurs that will leave a huge mark on this nation's history."
Jumia Nigeria has been at the centre of controversy recently, with HumanIPO reporting last week rival e-commerce platform Konga.com is to sue Jumia owner Rocket Internet after Rocket acquired a number of Konga domain names across Africa.
Konga accused Rocket Internet of "buying and sitting" on at least 10 of its domain names outside of Nigeria.
Documents seen by HumanIPO show Rocket Internet in June 2012 acquired Konga domains for South Africa (Konga.co.za), Kenya (Konga.co.ke), Ivory Coast (Konga.cd), Cameroon (Konga.cm), Libya (Konga.ly), Mauritius (Konga.mu), Morocco (Konga.ma), Malawi (Konga.mw), Seychelles (Konga.sc) and Saint Helena (Konga.sh).