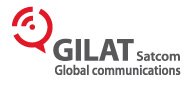 The second annual Great Rift Valley Mining Summit will be sponsored by Gilat Satcom, on March 13 and 14 in Lusaka, Zambia.
The summit will bring together a wide range of investors, international development agencies, NGOs, government ministers, international mining companies, and solution providers, discussing how untapped and undiscovered reserves can be mined to increase prosperity in the region.
Gilat Satcom will unveil its new range of fixed and mobile satellite services at the summit, specifically designed for the mining industry across Africa with an emphasis on flexible and tailored communication solutions to meet the specific needs of individual mining sites.
"The mining industry has always been a challenge for communications providers as it has multiple communications needs but is located in remote areas where no telecoms infrastructure exists. Gilat Satcom has the answer to these needs with a new and exciting line of solutions which are powerful in performance yet cost effective and easy to deploy, maintain and use," said Eran Yoran, marketing director of Gilat Satcom.