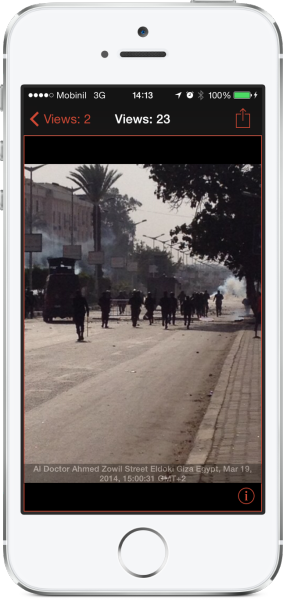 Egyptian startup Mapture has launched a photo and video verification mobile app aimed at preventing the proliferation of misinformation and falsified images, while also directing the focus of online content back to the content itself as opposed to the individual posting it.
Mapture tags the location of photos and videos taken through the app from the phone's GPS, making the time and location of the content unalterable and verifying its source and authenticity. The information is watermarked on the content, so viewers are assured of the veracity of the photo or video.
Co-founder and chief executive officer (CEO) Zeyad Salloum told HumanIPO the startup hopes to encourage the public to be more questioning of the content they view online and demand authentic, unaltered content.
"In a time where information retention is at a minimum and misinformation is at a maximum, simply because of the sheer amount of photos and videos accessible to the general public people have stopped questioning the authenticity of what they are viewing," Salloum said.
"We have become programmed to believe whatever photo or video we see without asking 'when and where'.
"As a result it has become common practice to see falsified images telling a dishonest story, be it in the news or travel realms, in addition to many other personal and professional examples."
According to Salloum, the internet is missing a verification tool to prevent the disemination of false images.
"There is a missing link between when a photo or video is taken, and when it is viewed by someone. That missing link is verification – verifying when and where any photo or video was taken and including it in a photo or video – and the goal is for Mapture to become the tool for anyone to view or take verified content from around the world with."
The startup envisages the app will be useful in a variety of situations, from documenting violent incidents to obtaining authentic hotel reviews.
"We believe it is important to geomap pictures because it gives you a visual representation of where the photo you're taking is located. Think of being able to geopmap protests or clashes, and proving that they were taken there," Salloum said.
"If you were looking to travel to another country and wanted to see what certain places looked like for example – be it hotels, hostels, or touristic monuments – being able to see them geomapped gives the user a visual representation of what places look like exactly where they are – and instead of being the one viewing the photos you can geomap the photos of your trip to see where you've gone.
"In development, organisations trying to track and report food shortages in developing nations can geomap the locations of supposed distribution centres, while for nations that encourage their citizens to become active members of society by reporting violations and misdemeanors, geomapping traffic violations or construction hazards is imperative."
Mapture also hopes to direct online content away from the current trend of focusing on who posted it, and pay more attention to the actual content being viewed – as such, all photos and images posted through the app are anonymous.
"Many people form preconceived notions. It's part of our nature. However, it is a major obstacle in the way people absorb and comprehend information," Salloum said.
"By allowing you to become anonymous, we are able to let the real issue at hand truly get the attention it deserves: the content being viewed. We truly believe that with anonymous users, content can be viewed by everyone regardless of any ideology or preconceived notion. The user will be viewing content in its purest form, thus facilitating the opportunity to form one's opinion without any external influences," the co-founder said.
"This purity is what we aspire to achieve, and hope to deliver to our users. Additionally, we are aware that our application can be used to expose and prove many dangerous or illegal things, and by allowing users to be anonymous we help keep their identities safe from harm."
The app – which can be used worldwide, and already has over 1,000 users since being launched in March – is currently is available for iOS, with an Android version to be launched within a couple of months, Salloum said.
While the startup is currently focusing on establishing partnerships with organisations in Egypt, Salloum said the team is looking to begin regional and global expansion.
"In five years time, we see Mapture being the content verifier around the world. We see it being the place for people to capture, view, buy or sell verified photos of everything around the world," Salloum said.