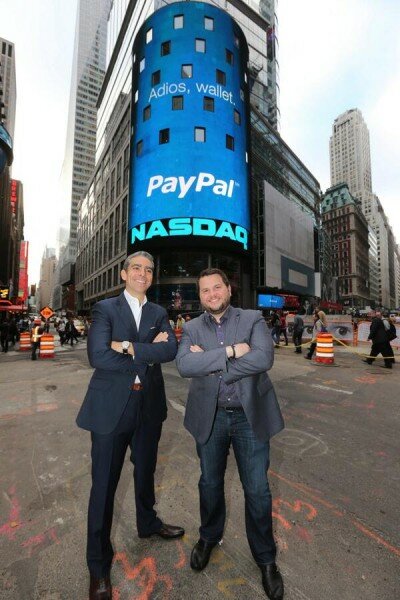 David Marcus, president at PayPal, and William Ready, co-CEO at Braintree. Image courtesy of PayPal.
PayPal becomes available in ten new markets today, with Nigeria and Zimbabwe added to the platform to take the number of markets it operates in to 203.
Reuters reports the payments service is also launching in the African countries of five European markets – Belarus, Macedonia, Moldova, Monaco and Montenegro, four in the African nations of Nigeria, Cameroon, Ivory Coast, and Zimbabwe, as well as Paraguay. Internet usage figures are based on research by Euromonitor International.
Rupert Keeley, the executive in charge of the EMEA region of PayPal, which is the payments unit of eBay, told Reuters: "PayPal has been going through a period of reinvention, refreshing many of its services to make them easier to use on mobile, allowing us to expand into fast-developing markets."
Once services go live, customers in the 10 countries with access to the web and a bank card authorised for internet transactions will be able to register for a PayPal account and make payments to millions of sites worldwide.
Keeley said PayPal is only offering "send money" services for consumers to pay for goods and services at PayPal-enabled merchant sites while safeguarding their financial details. This is free to consumers and covered by fees it charges merchants.
"We think we can give our sellers selling into this market a great deal of reassurance," Keeley said. According to him, PayPal does not yet cover peer-to-peer transactions, which allow consumers to send money to other consumers.
"It has not yet enabled local merchants in the new markets to receive payments, nor is it offering other forms of banking services," he said.