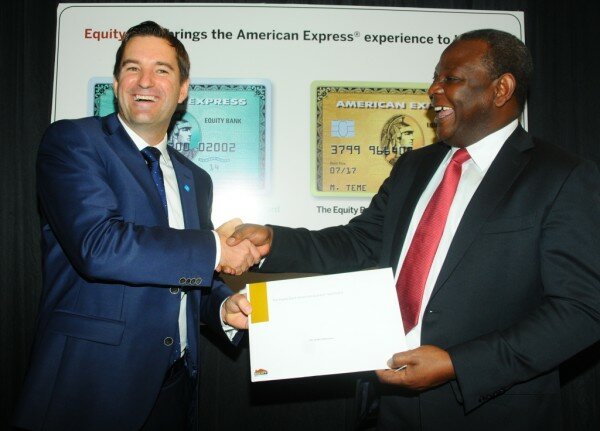 Equity Bank and American Express have launched the first American Express Cards in Kenya, offering Kenyan consumers the Equity Bank American Express® Green Card and the Equity Bank American Express® Gold – both of which carry rich rewards and benefits.
Consistent across both Cards are the outstanding benefits, rewards and world class service associated with the American Express brand. Cardmembers can enjoy peace of mind at home and abroad through a range of insurances included with the Cards, including travel accident insurance, travel inconvenience insurance including personal belongings protection, retail protection insurance including mobile phone theft protection, and access to emergency cash advances and 48 hour Card replacement services.
Both the Green and Gold Card offer automatic enrollment to Membership Rewards, the internationally award winning loyalty programme from American Express. With Membership Rewards, Cardmembers can collect points on all spend at both merchant locations and ATMs, and redeem them for a wide range of rewards including flights, hotel stays, electronics, retail vouchers and luxury goods. Cardmembers can also choose to redeem their points for charitable contributions. There is no cap on the amount of points Cardmembers can earn and the points never expire.
In each case, the Green and Gold Cards offer a level of financial flexibility reflective of the individual Cardmembers' personal circumstances, with the Gold Card offering higher lines of credit. Both Cards enable Cardmembers to revolve their balance on the Card, giving them the convenience of an extended payment option. Cardmembers can use their American Express Cards at millions of shops, restaurants, hotels around the world, as well as on American Express' global network of ATMs.
The Equity Bank American Express Green Card and the Equity Bank American Express Gold Card have been designed specifically with Kenyan consumers in mind and they have the opportunity to choose between the two Cards based upon their personal travel, lifestyle and financial needs. The Green Card offers a range of retail and lifestyle benefits and is ideal for those who will mainly use their Card to spend at local merchants in Kenya. The Gold Card offers an additional tier of travel and lifestyle benefits and is particularly suited to those who are more frequent travellers or more likely to spend on leisure such as dining out.
The Gold Card also offers an additional tier of travel and lifestyle benefits including Priority Pass which gives Cardmembers access to over 700 airport lounges worldwide and to offers at local hotels. It also offers Cardmembers a range of additional lifestyle benefits, such as enrolment in the American Express Global Dining programme, giving Cardmembers access to specially selected offers at restaurants at home and abroad.
Andrew Stewart, Vice President and General Manager, Partner Card Services Turkey, Middle East and Africa commented, "We are excited to partner with Equity Bank to launch the first American Express Cards in Kenya. This is an important milestone for our business and brings an opportunity to offer tailored products for Kenyan consumers characterised by outstanding rewards and benefits. This marks a key step in our growing partnership with Equity as we work together to meet the needs of a rapidly evolving payments landscape in the country".
Dr. James Mwangi, Equity Bank Group CEO said, "At Equity Bank, our mission is to best serve and meet the financial needs of our more than nine million customers, our association with American Express, a world leading payments company, is therefore part of this mission to deliver nothing but the best card solutions."
He added: "This partnership is in line with our business strategy of becoming a one stop international payment gateway and giving our customers and partners the freedom of modern banking in today's fast-paced world.
"Our investment in a robust IT platform continues to pay dividends and gives us the opportunity to continue investing in products and services that suit our customers who are increasingly becoming technology-driven and seeking borderless and seamless financial services," he reiterated.
The partnership gives Equity Bank the exclusive rights to issue American Express cards in Kenya, Uganda and Tanzania. Equity Bank also acquires merchants on to the American Express network in these countries.
Equity Bank Group has made significant investments in its diaspora remittances, merchant acquiring infrastructure and banking and transaction processing by connecting to leading global payment systems.
Late last year, the two companies signed an agreement where Equity Bank acquires American Express Cards onto the Bank's POS terminals and ATMs. As an American Express merchant acquirer, Equity Bank is supporting the expansion of the American Express network by developing and maintaining new merchant relationships in Kenya, Tanzania and Uganda.