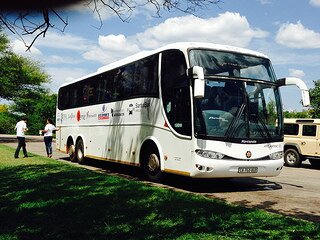 Mobile application using voice messages to connect people in rural areas to share information on Ebola in their local languages HaltEbola has emerged winner of AMPION's West African Venture Bus competition.
Organisers said Halt Ebola will be supported by AMPION and its sponsor Microsoft with free software and mentoring.
Michael Chu'no Ike (Nigeria), founder of the startup said, "The AMPION Venture Bus West Africa was a very unique experience for us. My team includes Martine Pandam (Togo), Luc Alapini (Benin) and I. We were not contented with expecting others to lead the path in solving African challenges; we were determined to take the lead so that others can support.
"To this end, we modeled HaltEbola, a digital platform that uses mobile to connect rural communities to information, practices and expertise that would be helpful in the current Ebola crisis. With the outlook of extensive support through AMPIONs network, we hope to be able to launch the prototype in a few weeks. Recording translations for many West African languages will take some time, but we have started right away!"
Organisers also announced plans for the Southern Venture Bus.
"Participants on the Southern Venture Bus will include entrepreneurs like Trevor Sibanda, a spirited youngster from Zimbabwe who, at the age of 19, has already developed an Anti-Malware Software and who has been coding since the age of 14. He will be joined by more experienced entrepreneurs like swiss mentor Cédric Waldburger or Gideon Moyo, a Yale graduate in software engineering and experienced Android developer," they said in a statement.