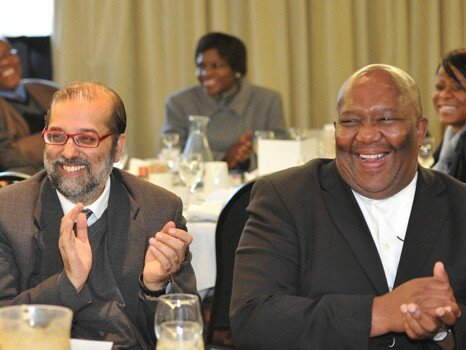 SA communications minister Yunus Carrim (left)
Yunus Carrim will today be sworn in as Dina Pule's replacement as South Africa's communications minister.
President Jacob Zuma fired Pule yesterday as part of a wider cabinet reshuffle, replacing her with Carrim, who had been the deputy minister of cooperative governance and traditional affairs since May 2009.
Carrim, along with other new ministers, will take his oath of office at 3pm at the Union Buildings, in a ceremony conducted by Justice Johan Froneman, representing Chief Justice Mogoeng Mogoeng, who is currently out of the country.
The Presidency emphasised today that, as President, Zuma did not need to explain his reason for reshuffling his Cabinet.
"The Presidency has noted complaints from some media houses and commentators that President Jacob Zuma did not provide reasons when announcing changes to the National Executive… the President of the Republic uses his prerogative when appointing members to the National Executive. He does not need to provide reasons," a statement said.
A former journalist and academic with strong struggle credentials, Carrim has been a Member of Parliament since 1994. He served on several structures of the ANC and the South African Communist Party.
Pule has been replaced following months of controversy, during which the opposition Democratic Alliance (DA) had repeatedly called for Pule to be replaced.
Shadow communications minister Marian Shinn told HumanIPO that though she welcomed Pule's removal, it remained to be seen how effective Carrim would be in his new role.
"While I do not know that much about her replacement, Yunus Karrim, I understand he is an ardent Communist and fan of nationalisation," she said.
"I hope his term in office will not lead to increased government control of the sector and interference with the market dynamics that are so essential to the flourishing of the ICT sector and the taking to market of competitive, affordable products and services."
Industry figures gave their reactions to the news of Pule's sacking at the ongoing LTE Africa conference in Cape Town.
Thecla Mbongue, senior analyst for Middle East and Africa at Informa Telecoms and Media, said: "The problems we had before she took over are still the same. I am not sure it will be the start of change because she was not responsible for slow policy implementation. It could be a new start or just a cleansing period for more of the same."
A senior member of staff at Alcatel-Lucent, who asked not to be named, said: "Everybody, and I would join with them, was wondering why it had not already happened. South Africa as a country has a head start on the rest of Africa in terms of infrastructure, but they have not made the most of it. Weaker infrastructure countries, such as Kenya and Ghana, have made the most of it with ICT policy. How South Africa with a much stronger starting point has fallen behind, I am not sure how they are doing it."
An ICASA official, who also asked not to be named, told HumanIPO while the decision was welcomed, and not a surprise, the government needs to stop rotating communications ministers every year. They said no coherent broadband policy for the past 16 years was the reason South Africa had gone from number one in Africa for the development of broadband to now being behind the likes of Nigeria and Kenya.
With additional reporting by Richard Cutcher.