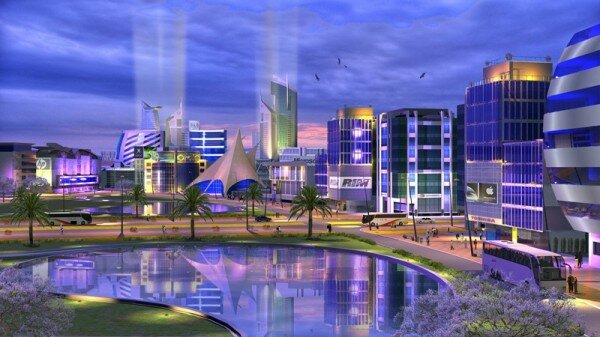 An artist's impression of the Entry Plaza to Konza Tech City. Image courtesy of Konza Techno City.
The Kenyan government has published the draft version of its bill supporting its technology city project, Konza, which includes a range of incentives for potential investors.
Among the incentives offered by the government in the Konza Technopolis Development Authority Bill is exemption from income tax for the first ten years of operation in the 'Konza Technopolis'.
The bill is currently at the stakeholder and public consultation stage.
HumanIPO reported last month phase one of the Konza construction is set to begin in the fourth quarter of 2013 and is expected to continue until 2017.
As well as the income tax break for companies, the bill recommends exemption from the payment of withholding tax on dividends and any other payments made to non-residents during the period the enterprise is exempted from payment of income tax.
The bill adds: "Exemption from payment of income tax for the first ten years from the date of business establishment in Konza, provided that the income tax rate shall be limited to fifteen per cent for the ten years following the expiry of the exemption granted."
Investors will also not have to worry about tax on any goods and services imported for the purpose of construction of buildings in Konza Technopolis, nor rent and tenancy controls under the Landlord and Tenant (Shops, Hotels and Catering Establishments) Act.
Regarding management of Konza, the bill has provided for the creation of an authority to manage Kenya's largest ICT hub which will charge license fees as well as collect rent, user, land, facilities and infrastructure fees.
The bill also allows the authority to borrow capital funds for delivering its functions as along as the treasury approves it and the proposed means of creating the said capital are bonds, debentures, stock and other forms of securities.